APSU Sports Information
Murfreesboro, TN – Redshirt junior Christina White opened the match with four straight service aces and Austin Peay State University's volleyball team raced to a three-set (25-13, 32-30, 25-15) nonconference win against Middle Tennessee, Wednesday night at Alumni Memorial Gym.
Austin Peay (24-4) posted 11 service aces as a team with White posting seven aces – the most by a Governor since 2013 and only one shy of the program's overall record.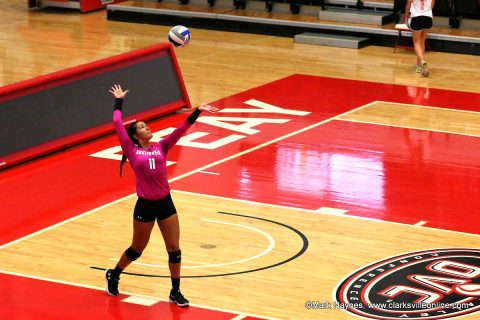 The Govs cruised to wins in the first and third sets thanks largely to White, who served up a 7-1 start in the opening frame and a 7-0 start to the third set.
Middle Tennessee (7-20) would force an exciting second set that featured 16 ties and five lead changes. Each team would see four chances at set point denied by the other side before Austin Peay converted on its fifth opportunity to claim the 32-30 win and regain much needed momentum.
Senior Ashley Slay led the Govs offense with 12 kills and a .588 attack percentage. Freshman Brooke Moore added 10 kills and a pair of service aces.
Dora Peonia paced Middle Tennessee with a match-best 13 kills. Makila York added 12 kills.
Set by Set
SET 1: GOVS 25-13.
Christina White set the tone for the match with four consecutive aces and the Govs raced out to a 7-1 lead. Austin Peay would maintain that advantage through the middle stretch before closing the fame with an impressive 11-3 run. The Govs needed only nine kills in the win thanks to five service aces.
SET 2: GOVS 32-30.
Middle Tennessee recovered to make the second set an exciting affair with 16 ties and five lead changes. Austin Peay had two chances at set point after getting to 24-22, but the Blue Raiders scored three straight points to turn the tables for their first set point at 25-24.
Austin Peay would stave off four set points before getting another chance at 29-28 and would see two more chances denied before sophomore Jenna Panning ended the match with a block. Slay was perfect on offense in the second, with seven kills on seven swings, and the Govs posted 15 kills, four aces and four blocks to claim the win.
SET 3: GOVS 25-15.
White again haunted the Blue Raiders to start the third set, serving up a 7-0 run that included her seventh service ace. Middle Tennessee used a pair of 3-0 runs midway through the set but could get no closer than four points, 15-11. The Govs used a 7-2 run to close the match. Austin Peay's offense finished the match with a 12-kill outing that saw it post a .455 attack percentage.
Govs Notably
WHITE ACES.
Christina White
's seven aces were the third most in program history and the most by a Governor since 2013. However, it tied the program record for most aces in a three-set match, equaling the mark set by Lauren Henderson against La Salle in 2013.
WHITE SEASON ACES. The seven-ace outing also boosted White into the Govs single-season Top 25 list. Her 44 aces this season now ranks 20th in a season. For the record, alumnus Melissa Gailey-Luckey holds the single-season record with 101 aces in the 1991 season.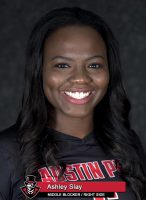 SLAY JUST EIGHT AWAY. Ashley Slay's 12-kill outing moved her within eight of a 400-kill season. She fell just shy of the 400-kill mark last season, posting 397 kills as a junior. There have been only 17 400-kill campaigns in program history.
THAT'S 10 ON THE ROAD. Austin Peay's win at Middle Tennessee was its 10th road win in 2017, breaking the program record. The Govs tied that record with nine road wins last season, APSU is 19-5 in true road games over the past two seasons.
TWENTY-FOUR, AND COUNTING. The Govs posted their 24th win this season, its fourth-most victories in a season, reaching the mark in its 28th match. Last season the Govs finished with 24 wins, reaching that mark in its 34th match played.
Next Up for APSU Volleyball
Austin Peay returns home to start a three-match Ohio Valley Conference homestand with a 7:00pm, Friday contest against UT Martin.