APSU Sports Information

Evansville, IN – A dominant performance from freshman Terry Taylor led to a late rally on the road forced to force overtime, but Austin Peay State University men's basketball team simply ran out of time against Evansville, falling 78-74 to the Purple Aces at the Ford Center, Saturday.
Taylor had one of the best performances of a still-young Austin Peay career, pouring in a career-best 30 points on 12-of-17 shooting to lead all scorers.
But a resilient Evansville side hit timely three-pointers and willed itself to the line in overtime to overcome a late surge from the Govs.
Austin Peay jumped out to an early advantage thanks to Taylor, who scored six of Austin Peay's first 15 points to build an early eight-point lead. But a 26-10 Evansville run reversed the script and seemed poised to take a large advantage into the break before a late Austin Peay surge cut the deficit to three at the break.
The Purple Aces would push the advantage as high as nine points with under 10 minutes to go in the second half, but a resilient Austin Peay squad wouldn't go quietly.
Taylor took over down the stretch, scoring 10 points in eight minutes as part of a 15-5 Austin Peay run to put the Govs ahead a bucket with 1:48 to go.
In the final minute of regulation, Evansville's K.J. Riley hit four free-throws—part of a 14-of-17 showing at the line for him—to put the Purple Aces up three with one possession left.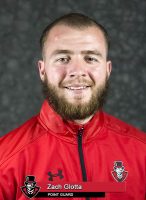 Working around the perimeter, senior Averyl Ugba got a wide-open look from the left side and drained a three with 1.1 to go to force overtime.
In the extra session, Riley had six points and Blake Simmons added five as the Purple Aces came out firing.
Junior Zach Glotta hit a three to cut the Austin Peay deficit to two at the halfway point of the extra session, but that would be as close as the Govs got during the final frame.
The Difference
Evansville shot 21 more free-throws than the Governors, resulting in 17 more makes. It marks the second game in a row that an Austin Peay opponent has made at least 13 more free-throws than the Governors.
The Purple Aces made (26) and attempted (32) the most free-throws of any Austin Peay opponent this season.
Notably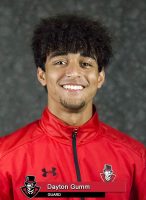 In scoring 30 points, Taylor became the first Austin Peay freshman with a 30-point night since the legendary Nick Stapleton had 32 against Middle Tennessee, February 13th, 1999. It's the first 30-point night from a Gov since February 16th, 2017 (John Murry against Eastern Illinois). He also had three blocked shots, most by a Governor this season.
Since the Virginia contest, Austin Peay now has a +49 turnover differential. The Govs tied their season-low with 11 turnovers against the Purple Aces.
Freshman Dayton Gumm chipped in with 17 points, snapping a two-game slide in single digits for him. He also added a career-high tying five assists.
Austin Peay's nine three-point field goals equaled the Governors season-high set November 26th against Miami. It's their most in a road contest since the 2016-17 season finale at Southeast Missouri.
After not fouling out in the first 87 games of his Austin Peay career, senior
Tre' Ivory
fouled out in back-to-back contests against Illinois and Evansville.
The Governors hit 9-of-11 (81.8 percent) at the free-throw line, their best mark at the charity stripe this season.
Graduate transfer Ed Stephens made his Austin Peay debut, playing three minutes.
The 33 points for Evansville's bench were the most by an APSU opponent since the Virginia contest, November 13th.
Coaching Quotables with Head Coach Matt Figger
Overall thoughts
"We showed some resilience but that's getting old. Close but no cigar is getting old. We made immature plays and we've got to toughen up. I didn't like our approach today at all. The same mistakes are happening. The lack of execution, the lack of having five guys on the same page at the same time… that's my fault."
Looking Ahead to Troy
"They're a good team, an NCAA Tournament team last year. They've got most of their best players back. They've played a brutal schedule. We've got to be ready to go; we've got to defend our home court. It's hard to come on the road and win and we're close, but close only counts in horseshoes and hand grenades."
Next Up for APSU Men's Basketball
Austin Peay wraps the non-conference schedule with a pair of pre-Christmas tilts in the Dunn Center, beginning Tuesday, December 19th against Troy. Tip-off is set for 7:00pm against the Trojans.