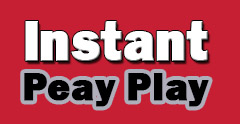 Clarksville, TN – Former Austin Peay State University baseball pitcher Jared Carkuff was part of an off-season trade, Jan. 6th that also included major league player Yangervis Solarte, with the former Govs right hander moving from the Toronto Blue Jays organization to the San Diego Padres minor league farm system.
Carkuff played at Austin Peay from 2013-16 and drafted in the 35th round of the MLB June Amateur Draft by the Blue Jays and who along with center fielder Edward Olivares were two minor league prospects picked up by the Padres for Solarte – who had 18 home runs and 64 RBI in 128 games for San Diego in 2017 playing mostly at second base, but can play all four infield positions.
After the trade, Carkuff was assigned to the Lake Elsinore Storm of the California League – the Padres Class A—Advanced minor league team.
For the Padres to give up a proven major leaguer for two prospects their scouting service must see something in Carkuff and Olivares – who is ranked as the 18th best prospect in the Blue Jays farm system.
While he may not have been ranked in the top 30 of Toronto's prospects, Carkuff has been a solid performer for the Blue Jays organization in his two years in minor league baseball and something the Padres saw potential in – with the Padres having the seventh-ranked farm system in Major League Baseball, while Toronto farm system is ranked 17th overall.
In 2016, Carkuff opened his pro career with the Gulf Coast (Rookie) League Blue Jays before moving up to the short season Class A Vancouver Canadians.
Between the two teams, Carkuff posted an overall record of 4-0, with seven saves, in 19 total games out of the bull pen. He was also named a Gulf Coast League Post-Season All Star.
This past summer Carkuff played with four different teams in the Blue Jays farm system, moving from his start at short season Class A Vancouver to the Class A Lansing Lugnuts of the Eastern League, to Dunedin Blue Jays of the advanced Class A Florida State League, to his final stop at Toronto's Class AAA team Buffalo Bisons of the International League.
Overall, Carkuff posted a 3-4 overall record, including eight saves, in 34 total appearances among his four stops in 2017.
While Carkuff's 7-4 record, with 15 saves, in 52 total games in his two seasons in the Blue Jays minor league system is solid, he has also averages less than a hit an inning given up (82 hits in 89.2 inning worked) and an average of 8.8 strikeouts per nine innings worked, while only walked 1.9 per nine innings pitched.
The trade may also give Carkuff a chance to play a little closer to family and Govs fans if he were to make it to the Padres Class AAA team, the El Paso Chihuahuas of the Pacific Coast League, who is also the same league as the Nashville Sounds.
About Chris Austin
Chris Austin is a graduate of Clarksville High School and Austin Peay State University.

Chris is a former Head Softball Coach for APSU, and assistant basketball coach for CHS.

Chris has worked at the Leaf-Chronicle, and WJZM News/Talk/Sports radio. Has also worked at the Sports Information Department at APSU, and has covered championship events for the Ohio Valley Conference and NCAA.

Chris is an avid sports fan and can be found at most Austin Peay State University sports events.

Web Site: http://www.clarksvillesportsnetwork.com
Email:
Sections
Sports
Topics
APSU, Austin Peay, Austin Peay State University, Buffalo Bisons, California League, Clarksville TN, Dunedin Blue Jays, Eastern League, Edward Olivares, El Paso Chihuahuas, Florida State League, Governors, Govs, Gulf Coast League, International League, Jared Carkuff, Lake Elsinore Storm, Lansing Lugnuts, Major League Baseball, MLB, Nashville Sounds, Pacific Coast League, San diego Padres, Sounds, Toronto Blue Jays, Vancouver Canadians, Yangervis Solarte