APSU Sports Information

Clarksville, TN – Austin Peay State University men's tennis team kicks off its 2018 spring schedule with a road clash against Middle Tennessee at 11:00am on Monday, January 15th, 2018 in Murfreesboro Tennessee.
The Govs are led by Lithuania-native Almantas Ozelis, who garnered First-Team All-Ohio Valley Conference honors in 2017.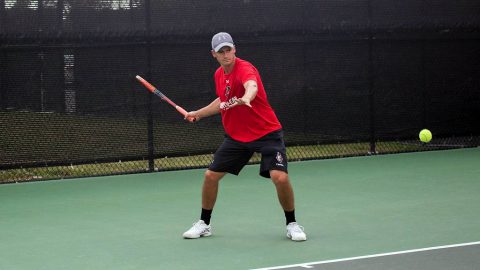 The other two returning players are senior Aleh Drobysh and junior Chad Woodham. Drobysh, Ozelis and Woodham each notched four victories in doubles this past fall, with each player having at least two different partners during the course of the season, underlining the team's versatility.
Four players are playing their first spring with the Governors, with three being true freshmen. Evan Bottorff, Christian Edison, Timo Kiesslich, and Jacob Lorino all experienced their first action in a Govs uniform this past fall. Edison, along with Ozelis, played in the ITA All-American Championships.
Ross Brown is entering his sixth season as the head coach for the men and women and is looking forward to seeing the Govs build on the fall season.
"It starts very quickly here and we're excited to get going," Brown stated. "We have a number of new players on the team and their attitude and what they have done so far has been excellent. I expect we are going to do well in doubles and with each season there are ups and downs and trying to make adjustments as we go along will be key. The important thing, the great thing we have on this team at the moment is that we have a great culture with the guys working hard.
"The fall is basically individual play and the spring is team play, so it is a different dynamic all together. Finding out what's going to be successful in doubles for us, what combinations actually work is going to be very, very important for us. If we can get people playing close to their ability, that's going to be the goal and that'll determine how successful we are. If we have the majority of our team playing their best tennis, then we should have a good spring."
Brown also stressed the importance of the spring season.
"We have our conference play in the spring so it is extremely important," said Brown. "That's what everything is geared on and based on is how we do in conference, so it is very important for us."
Following their season opener, the men return to the court for their first home match January 27th against Chattanooga.