Clarksville, TN – Clarksville Police Officer Constantine (Coz) Minetos was submitted and selected as the American Legion Fort Campbell Post 289's Law Enforcement Officer of the Year for 2017-2018. He was presented with a plaque at the monthly meeting of American Legion Fort Campbell Post 289.
Coz was recognized for exemplifying the qualities of a law enforcement officer. He has the innate ability to provide outstanding law enforcement skills, as well as being a role model for community policing.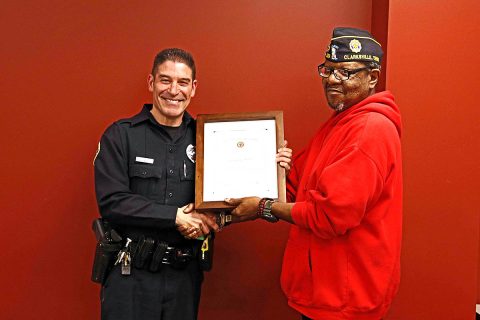 He has been recognized with numerous letters of commendation, appreciation, and awards for his positive interactions with the community and self-motivated investigations solving crimes in the community.
He has stepped up and volunteered to be part of several community outreach programs which are integral in building community relations.
Officer Minetos has over 20 years of law enforcement under his belt and is as motivated today as the first day he was hired. After being selected locally, he will now be considered at the state level for the American Legion Law Enforcement Officer of the Year.
The Clarksville Police Department is proud of Officer Minetos' achievements and appreciate the American Legion for recognizing him with this award.
Photos