Hypertension Journal Report
Dallas, TX – An international study suggests other aspects of the diet may not offset the harmful effect of sodium on blood pressure. The study, published in the American Heart Association's journal Hypertension, also reaffirms the need for widespread sodium reduction in the food supply.
Researchers reviewed data on sodium intake and intake of 80 nutrients, such as proteins, fats, vitamins, minerals and amino acids, that may relate to blood pressure in 4,680 women and men (ages 40-59) in Japan, People's Republic of China, the United Kingdom and the United States participating in the INTERMAP study.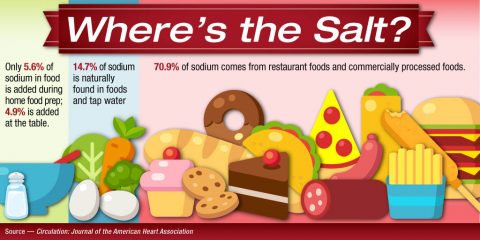 The data included sodium and potassium excretion levels in urine collections.
Researchers concluded that other dietary nutrients may not reduce the detrimental effects of sodium.
"Regularly consuming excessive amounts of sodium, derived mainly from commercially processed food products, is an important factor in the development of the elevated blood pressure patterns," wrote co-lead author Jeremiah Stamler, M.D. "To prevent and control the ongoing epidemic of prehypertension and hypertension, the salt content in the food supply must be reduced significantly."
About 3/4 of the sodium Americans eat comes from processed, prepackaged and restaurant foods – not from the salt shaker when cooking or at the table. The American Heart Association recommends adults consume no more than one teaspoon of salt (2,300 mg sodium) total per day through all the foods they eat.
"We're learning more about the role other nutrients play in influencing the blood pressure-raising effects of sodium, and that the focus on sodium remains important," said Cheryl Anderson, Ph.D., vice-chair of the American Heart Association's Nutrition Committee. "Restaurant and prepackaged food companies must be part of the solution because Americans desire the ability to choose foods that allow them to meet their sodium reduction goals."
The American Heart Association convenes food industry leaders and influencers to identify ways to improve the food supply and has developed a sodium reduction campaign to help.
The study was led by Jeremiah Stamler, M.D. of Northwestern University, Feinberg School of Medicine and Queenie Chan, Ph.D. of the Imperial College London. Author disclosures and study funding are noted in the manuscript.
Additional Resources: