Written by Sgt. Sharifa Newton
40th Public Affairs Detachment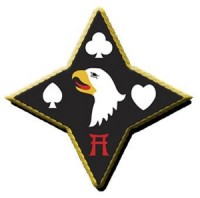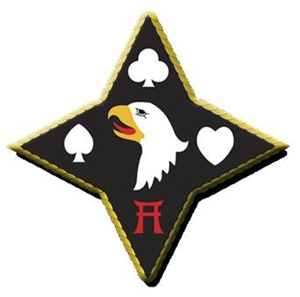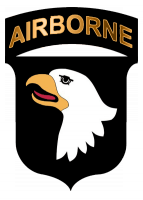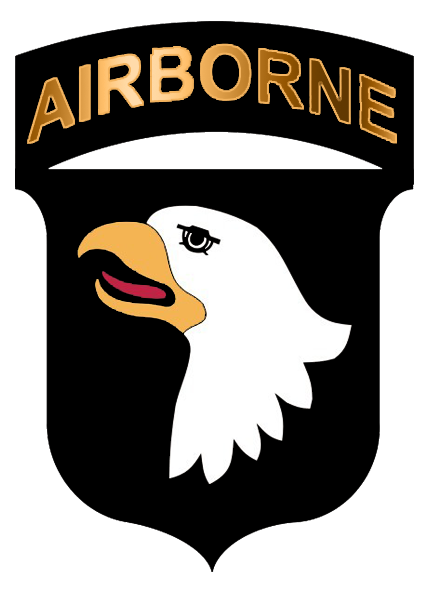 Fort Campbell, KY – Private First Class Caden Emmons, 541st Transportation Company, 129th Combat Sustainment Support Battalion, and Sgt. Stephen Calderone, 58th Signal Company, 101st Special Troops Battalion, both with the 101st Airborne Division Sustainment Brigade, 101st Airborne Division, were recently named Soldier and noncommissioned officer of the year.
To attain the title of Soldier and NCO of the year designated individuals competed head-to-head in several events.
"This a three-day long competition, where the Soldiers will be tested on their physical fitness, marksmanship, navigation skills, and basic warrior tasks," said Staff Sgt. Jacob Piechowski, from C Troop, 1st Squadron, 33rd Calvary Regiment, 3rd Brigade Combat Team, 101st Airborne Division, cadre assisting in the competition evaluation. "These Soldiers have gone through exhaustive training and boards from their lower echelons, that's why they have been selected to participate in the 101st Best Soldier and NCO Competition."
The competition began with an Army Ranger physical fitness test that eliminated five of the 12 competitors.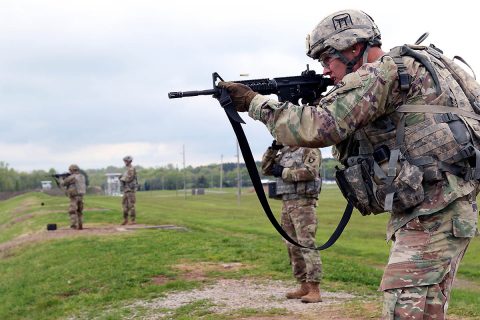 Caden, who had the fastest 5-mile run time at 30:04, said, it felt good to come in at the time he did. His goal for the competition was to perform well collectively with his peers. Afterward, the competitors completed a gear inspection and a written exam covering Army regulations, military tactics and combat life saver knowledge.
Next, the competition moved into a M4 carbine, assault rifle, zeroing and qualification stress-shoot where another two contestants were eliminated. Soldiers had to qualify then complete a certain number of repetitions of several exercises before firing a 20-round magazine in 20 seconds.
Later that day, the contestants went through a surprise event at The Sabalauski Air Assault School's obstacle course. The competitors then ruck marched roughly 5 miles to Camp Hinsch, where they rested part of the night and participated in a night land navigation course.
"Honestly, I think the worst part of land navigation was not getting a lot of sleep and walking around in soaking wet boots, but all in all it wasn't too bad," said Sgt. David Walton, C Co., 3rd Bn., 187th Infantry Regiment, 3rd BCT. "It was basic Soldier tasks that we all should be proficient at."
The following day, officially began with day land navigation leading to a series of evaluations ranging from camouflaging techniques, weapons assembly and functions checks, map reading, casualty evaluations and movement, communications and chemical biological radioactive nuclear procedures.
Another event that took place was an Army combatives demonstration; where the remaining competitors battled it out through a display of level 1 basic combatives moves.
From there, the Soldiers proceeded to the final mystery event; a 12-mile foot march, which concluded the day.
"It's been challenging, it's harder than a brigade board because it's more condensed and has more activity," said Spc. Johnny Richardson, C Co., 1st Bn., 187th Inf. Regt., 3rd BCT. "But, if someone asked me to do it again, I would."
On the final day of the competition, the contestants attended a board that tested their military bearing, knowledge and leadership proficiency and ultimately identified the winners.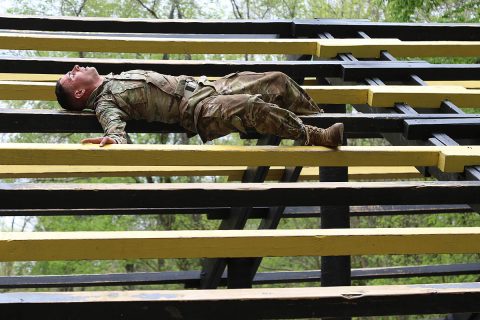 "Being the 101st Airborne Division NCO of the year represents the effort I put into my career and helping to develop my Soldiers," Calderone said. "It's a sincere honor."