Youths invited to enjoy food, games, crafts and sports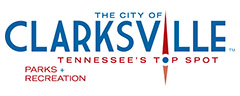 Clarksville, TN – Clarksville Mayor Kim McMillan invites Clarksville youths to join in a summer program filled with fun activities and free food designed to help them fight summertime boredom.
The sixth season of the Mayor's Summer Night Lights program will kick off June 4th and continue at various locations throughout the summer with DJs, athletic competitions, arts and crafts, local music performances, and more.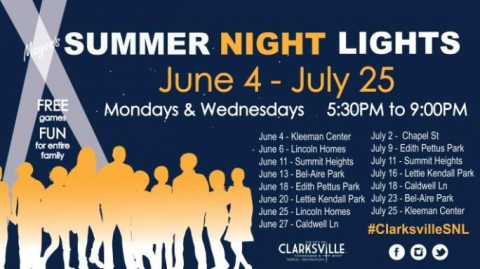 The fun begins Monday, June 4th at the Kleeman Community Center with 5-on-5 Basketball Tournaments for players age 14 and older.
Participants must sign up at the center no later than 5:45pm. Visitors can compete in a dance competition with the Distinguished Steppers, enter to win prizes courtesy of event sponsors, and visit with vendors from the community.
Summer Night Lights, coordinated by the Clarksville Parks ad Recreation Department, continues at eight locations on Mondays and Wednesdays from 5:30pm to 9:00pm through July 25th. The program is designed for teens, but all ages are welcome. A meal is provided free of charge by Manna Café each night of the program.
Free swimming is provided from 6:00pm-8:00pm June 4th at New Providence Pool and July 23rd at Bel-Aire Pool.
Here is the complete Mayor's Summer Night Lights program schedule:
Bel-Aire Park
124 Marie Drive
Wednesday, June 13th
Monday, July 23rd
Caldwell Lane
226 Caldwell Lane
Wednesday, June 27th
Wednesday, July 18th
Chapel Street
Lettie Kendall Park
300 A Street
Wednesday, June 20th
Monday, July 16th
Lincoln Homes
20J Howard Street
Wednesday, June 6th
Monday, June 25th
Kleeman Community Center
166 Cunningham Lane
Monday, June 4th
Wednesday, July 25th
Summit Heights
20 Summit Heights
Monday, June 11th
Wednesday, July 11th
Edith Pettus Park
345 Farris Drive
Monday, June 18th
Monday, July 9th
For more, contact Clarksville Parks and Recreation at 931.645.7476.