Written by Maria Yager
Blanchfield Army Community Hospital Public Affairs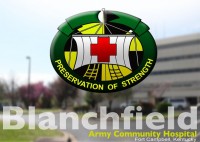 Fort Campbell, KY – The commanding general for the largest regional health command in the Army visited Blanchfield Army Community Hospital, June 27th, 2018 and shared her priorities for the 25,000 military and civilian employees who provide healthcare to approximately 600,000 service members, retirees and their families in the region.
Former Blanchfield commander, Brig. Gen. Telita Crosland assumed command of Army Medicine's Regional Health Command-Atlantic (RHC-A), headquartered at Fort Belvoir, Virginia, from Brig. Gen. R. Scott Dingle earlier this month.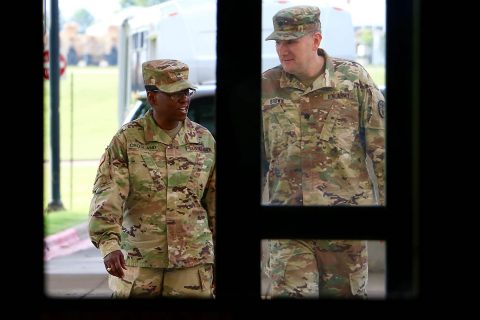 "It's been a very busy, dynamic time in Army Medicine. The military health system has gone through transition," said Crosland, referring to the ongoing military healthcare transformation. The National Defense Authorization Act of 2017 called for transitioning the management of the three separate military health systems of the Army, Navy and Air Force to one, managed by a single Defense Health Agency. The Army and the other branches of service have each identified medical facilities to begin transitioning to the Defense Health Agency by October 1. RHC-A's Womack Army Medical Center, located on Fort Bragg, North Carolina, will be the first in the Army to transition.
"What I need us all to do as a health care system is understand that some things are foundationally not changed. So, I have three priorities. The first priority is access to safe, quality health care. As I said, we're a health care system and that is foundational and that is also what enables my second priority which is readiness. That's the Army's Chief of Staff and Surgeon General of the Army's priority. A lot of folks have chatted with me and asked me why it is number two for me. The way that Army Medicine generates readiness and meets the Chief of Staff and the Surgeon General's priority is by running a safe, quality health care system and having access to that system and that's how we maintain readiness and deliver readiness to the Army. Those two are the priorities at the treatment facilities across the region," explained Crosland.
Blanchfield's current commander, Col. Anthony L. McQueen said he was grateful Brig. Gen. Crosland shared her insight of the future of Army Medicine to his team.
"We are fortunate for Brig. Gen. Crosland to visit our team so quickly since assuming her new command to share her knowledge of what will take place in the future within Army Medicine. I believe her message was spot on and helped our leaders and medical team understand their overall mission is to medically care for Soldiers, retirees and their families and support readiness. The team now knows the mission will remain unchanged," said McQueen.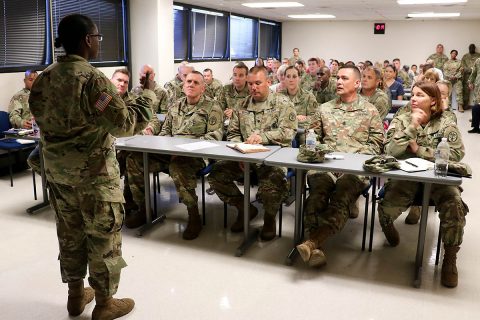 "We've got very good processes. We must make sure we are technically proficient and physically, mentally and emotionally ready to be a Soldier in a technical environment. We as a team need to turn our behavior and embrace that because we do it well and we have an opportunity to do it even better," Crosland told a gathering of Blanchfield leaders.
Her third priority is supporting the transition of the military health system. Previously managed individually by each service, the Defense Health Agency will assume management and administration of all the military treatment facilities in the Department of Defense.
The change is designed to eliminate duplicate functions of three separate health systems by transforming them into one system. The Defense Health Agency is a joint service enterprise that will be responsible for budgets, information technology, healthcare administration and management, administrative policy and procedure, military medical construction and other matters.
As far as the transition goes, Crosland said that she intends for the staff at RHC-A to work out the details.
"That will consume a fair amount of energy of the headquarters command. My intent is for headquarters to shoulder most of that, and for the medical treatment facilities, and the dental treatment facilities and everyone else doing healthcare and all the things that they do, to stay focused on safe, quality care."
Because it is administrative in nature the transition should be transparent to beneficiaries who receive care.
"We'll have a lot of focus and energy in making sure that transition is successful. And that we continue to meet and deliver what our beneficiaries both in a deployed and garrison environment deserve," said Crosland. "Some things that we have to keep doing — we have to keep evolving as a healthcare system, so I'm going to stay focused on Blanchfield and all my MTFs in the region. We have to challenge ourselves and make sure we're meeting our patients and giving them an opportunity to engage — that we're out in the community."
Crosland and Command Sgt. Maj. Diamond Hough each assumed their roles leading the region earlier this month and will continue to circulate through the 14 medical facilities and six direct reporting units in the region. Regional Health Command-Atlantic provides medical, dental and public health support to Soldiers, retirees and their family members at Army medical centers, hospitals and clinics from Fort Drum, New York, to Fort Buchanan, Puerto Rico.