APSU Sports Information

Clarksville, TN – When the Austin Peay State University (APSU) football team reported for the first day of practice on Friday, an important part of the team was still making his way back to Clarksville.
Wide receivers coach Todd Pinkston had been roaming the Baltimore Ravens' sideline the previous night during the annual NFL Hall of Fame Game in Canton, Ohio.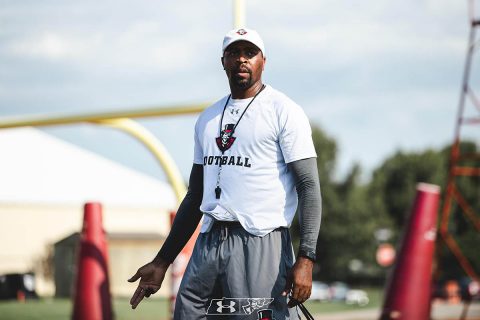 Through a chance encounter with Ravens coach John Harbaugh at the Senior Bowl, Pinkston earned an invitation to participate in the Bill Walsh NFL Diversity Coaching Fellowship with Baltimore.
The program, named after legendary San Francisco 49ers coach Bill Walsh, "provides NFL coaching experience to a diverse group of participants every year. The program exposes talented minority college and high school coaches and former players to the methods and philosophies of NFL coaching staffs."
It is the third time the seven-year NFL wideout has had the opportunity to coach during an NFL preseason training camp through the program. He's previously coached for his former team, the Philadelphia Eagles, as well as the Minnesota Vikings.
For Pinkston, the experience of coaching with Ravens allowed him to see how practices are run at the highest level of football, and gave him new ideas on how to best prepare the Austin Peay receivers.
"I took a lot of stuff that I did in the individual drills with the receivers coach, Bobby Engram," Pinkston said. "I also did a lot of stuff as far as the attention to details. I talked to my coaching staff a lot more. It was a lot of being organized and getting guys in a position to make a play, and that's what we're doing right now.
"It's a first-class organization. What I try to do is instill the knowledge of how to practice, as far as game-planning and the business side of football. It was a great experience for me, as far as getting to learn hands-on as far as being a National Football League Coach."
Coach Will Healy is excited Pinkston had the opportunity to develop himself as a coach and gain insights he can instill in his players.
"Obviously, getting to learn from some of the best guys at the highest level is important," Healy said. "It's something he's done before, but just kind of refining his tools and focusing on some more fundamentals and individual drills and some things he can bring back to help our guys is awesome.
"I think it does nothing but validate and solidify what our kids think about him and his ability to help them get to that level. He knows what it looks like, and for him to have that opportunity to go and work with the Ravens for a couple weeks has been very beneficial to him, and it will be very beneficial to our kids."
Senior wide receiver DJ Montgomery echoed Healy's sentiments. He enjoys having the opportunity to learn from someone who has competed and coached in the NFL.
"It's great because you can really trust a guy that made it to the League and played years in the League," Montgomery said. "He also played in a Super Bowl, so you can really trust him and trust what he's talking about."
Not only did Pinkston have the opportunity to coach during NFL practices and a preseason game, that preseason game had special meaning to him. Pinkston – who caught 184 passes for 2,816 yards and 14 touchdowns in his career with the Eagles – had two of his former teammates inducted into the Hall of Fame that weekend: fellow wide receiver Terrell Owens and safety Brian Dawkins.
Dawkins was on hand during the Hall of Game and was honored on the field prior to kickoff.
"It was a great experience," Pinkston said. "I think it was very energetic, as far as the atmosphere. Getting a chance to see somebody I played with get into the Hall of Fame, it was an honor. I try to keep up with those guys and tell them I appreciate I had the opportunity to play with them."
Now that Pinkston is back in camp and coaching up the receivers with new knowledge and drills, he is now tasked with developing the replacements for departed playmaker extraordinaire, Kyran Moore, who signed with the Saskatchewan Roughriders of the Canadian Football League.
Montgomery is poised to take on a larger role as the leading returning receiver from a year ago. Kadeem Goulbourne and Gorel Soumare recorded significant playing time last year, as well. Pinkston is also expecting big things from returning players and newcomers alike.
"Replacing
Kyran Moore
is big for us, but at the end of the day, I think we have a couple guys that are up for the challenge," Pinkston said. "
DeAngelo Wilson
,
Josh Alexander
; we've got a couple young guys like
Ziyon Kenner
. We've got an opportunity to make some plays, and I think we have the weapons to do that. We just have to go out there and execute and finish up strong in camp."
The Governors wrapped up their fifth practice of fall camp Tuesday morning.
They will hold two more practices (8:00am Wednesday; 7:30am Friday) ahead of their first intrasquad scrimmage at 10:00am, Saturday, August 11th at Fortera Stadium.
Practices and scrimmages are free and open to the public. Fans can sit in the west grandstand of Fortera Stadium.