Written by Bob Allen
NASA's Langley Research Center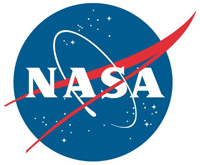 Hampton, VA – NASA researchers are testing cockpit-based software that combines the power of integrated, real-time flight data with the touch-and-go ease of a tablet computer to put the power to save time and fuel at pilots' fingertips.
The Traffic Aware Strategic Aircrew Requests, or TASAR, project is a research partnership between NASA and Alaska Airlines testing NASA's Traffic Aware Planner (TAP) software, which merges and evaluates an unprecedented combination of real-time flight data to provide pilots with optimized flight path options.
Route optimization through TASAR offers a number of benefits, such as saving fuel and flight time and helping pilots make better, more informed route requests to air traffic controllers.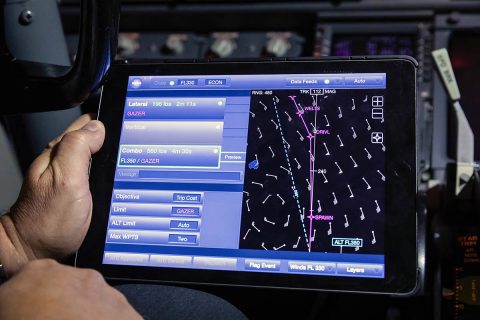 David Wing, TASAR research lead at NASA's Langley Research Center, has seen TAP make suggestions that would save up to 1,800 pounds of fuel and 12 minutes of flight time, though he acknowledges that's probably a bit on the high side for a typical flight.
"Through simulations, we came up with rough estimates that an average airline flight might save 400 to 500 pounds of fuel and about four minutes of flight time," said Wing.
Early results are promising. On five of its first six flights with Alaska Airlines in the first week of a planned eight-month operational trial, the TAP software made reroute recommendations – changing the aircraft's path and/or altitude – that reduced flight time or saved fuel, and more often than not, both.
Wing and colleague Dr. Kelly Burke flew on several flights with Alaska Airlines crews to make sure the software worked correctly. If Wing's job is to make the software work on the airplane, Burke's job is to make it work for pilots. She's the human factors expert who designed TAP's interface.
"The most exciting part for me is to see crews use the software," explains Burke. "We wanted to know whether pilots could switch back and forth between their different apps effectively, and I sat right behind the captain and watched him do just that."
As an early adopter of TASAR technology, Alaska Airlines sees huge potential in TAP.
"Route optimization is not a new concept," said Bret Peyton, director of fleet technology support for Alaska Airlines. "But having a truly rich set of real-time data to use for decision-making after departure is where the game-changing capabilities of TAP come into play. We're approaching the 50-flight mark in our trials and have some ways to go before speaking definitively, but the potential is very clear."
TAP simultaneously factors real-time weather, winds, air traffic, restricted airspace, and airplane state into its flight path calculations. As conditions change during flight, TAP tirelessly crunches the numbers and updates its recommendations. Weighing all of these factors and comparing them against each other, it delivers best-available reroutes to pilots based on the latest information every 60 seconds.
"TAP is intuitive and requires minimal training," explains Jared Woodward, Alaska's TASAR program manager and technical pilot. "Recently, I had an air traffic controller offer a 'shortcut' that looked good to me, but would have resulted in a loss of time if it was not for TAP."
Woodward also has used TAP as a referee in the cockpit.
"The flight plan said 'In 150 miles, climb to 35,000 feet,' and the FMC [Flight Management Computer] said, 'Climb to 35,000 feet now.'" Woodward used TAP to cross-check the two, "TAP displayed climb now resulting in a 660-pound fuel savings."
Minimizing fuel burn is an important function of TAP. Burning less fuel reduces emissions, cuts operating costs and diminishes environmental impacts.
As an airliner flies, it burns fuel and gets lighter. As that happens, higher altitudes often become increasingly favorable in terms of cruise efficiency. Pilots regularly request higher altitudes and route shortcuts to save fuel.
Sometimes an invisible threat to efficiency – headwinds – awaits. Headwinds are constantly shifting and can negate rerouting benefits. Where wind information available to crews now is sometimes several hours old, TAP tracks up-to-date, three-dimensional wind information and factors it into hundreds of rerouting option calculations.
That's how TAP helps pilots find and fly the most fuel-efficient route even when it's not the most direct option.
"Even minimal savings – say 50 pounds of fuel here and 30 seconds of flight time there – it adds up," said Wing. "Think about what it means if this is done repeatedly throughout every flight."
Alaska Airlines continues to fly the TAP software on three aircraft flying multiple flights a week. During the planned eight-month operational trial on revenue flights, NASA plans to continue gathering data about TASAR's effectiveness, while Alaska Airlines gets their customers to their destinations a little more quickly and economically.
Read More:
Taking new roads in the sky: NASA and Alaska Airlines are making it happen (blog.alaskaair.com)
NASA Langley Team Wins 2016 NASA Software of the Year Award
NASA Developed Technology Aims to Save Commercial Airlines Fuel, Time
Cockpit Software Could Help Pilots Plot Best Path