Austin Peay State University Sports Information

Clarksville, TN – Austin Peay State University (APSU) women's tennis team experienced a great start to the APSU Fall Invitational, Friday.
The results were highlighted by all four of APSU's players in the Flight A Singles advance to the quarterfinals.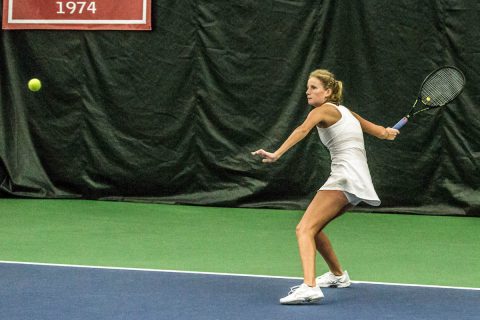 In the first round, Claudia Yanes Garcia defeated UT Martin's Andrea Cortes (6-0, 6-4) and Fabienne Schmidt took down Belmont's Erin Allen (6-1, 6-1).
Both players advanced to the second round in Flight A alongside fellow Govs Lidia Yanes Garcia and newcomer Tatiana Lopez, who both received byes to the second round as two of the top five seeds.
Schmidt and Claudia continued their dominance from the first round as Schmidt easily took care of Central Arkansas's Yada Vasupongchai (6-2, 6-0) and Claudia followed with an impressive 6-1, 6-2 win over Belmont's Drew Hawkins.
Lopez and Lidia had to work for their places in the quarter finals, however. Lopez took the first set against Marli van Heerden of Central Arkansas, 6-1, but van Heerden battled back to win the second set in a tiebreak. Lopez took control of the third set (first player to ten points, win by two) to win it 10-5 and advance to the quarterfinals.
Lidia had a similar up-and-down match, taking the first set against Murray State's Anja Loncarevic, 6-3, but then dropping the second, 6-0. Lidia regained her composure to also win the third set in convincing fashion, 10-4 and advance to Saturday's quarterfinal. There is a very real prospect the division could see an All-APSU Final Four, with a battle of the Yanes Garcia sisters looming in a possible semifinal.
In Flight B Singles, Helena Kuppig remains the lone Gov alive in the main draw. The senior earned a first-round bye before dismantling Maria Plaskina of Belmont (6-0, 6-1). Freshman Danielle Morris defeated Southeast Missouri's Grace Powderly (6-1, 6-1) in her first career match as a Gov, but lost a heartbreaker to Central Arkansas's Mei Ishimura in the second round (6-3, 3-6, 10-8).
On the doubles side, the Yanes Garcia twins teamed up to win their first round match in Flight A doubles against SEMO's Teona Velkoska and Isabella Krupa (6-4). Lopez and Schmidt, who earned a bye into the second round, also teamed up and advanced to the semifinals with a 6-2 win over Caroline Hall and Polina Goloputova of Chattanooga.
The Yanes Garcia sisters then upset the number one seeded team of van Heerden and Chunxi Xin (6-4) to advance to the semifinals on the side of the bracket opposite of Lopez and Schmidt.
Kuppig and Morris were the number one seeded team in Flight B Doubles and earned a bye into the second round. The duo easily ousted Belmont's team of Mical Johnson and Sarah Brackin (6-1) to also advance to the semifinals.
Play is scheduled to begin tomorrow at 9:00am, with the quarterfinals of the main draws of both Flight A and B Singles to be the first matches played.
Results
Flight A Singles Main Draw
First Round
Second Round
Flight B Singles Main Draw
First Round
Second Round
Flight A Doubles
First Round
Second Round
Flight B Doubles
Second Round