Tennessee Titans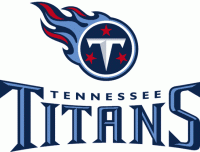 Nashville, TN – In Week 14 of the 2015 season, the Titans traveled to the New York Jets (12/13) in search of their second consecutive win. Despite posting 315 receiving yards, Tennessee was defeated by the Jets who outscored the Titans 30-8 on 183 total rushing yards and quarterback Ryan Fitzpatrick's three touchdown passes.
Tennessee's lone touchdown of the contest came on a third quarter 41-yard trick play pass from running back Antonio Andrews to quarterback Marcus Mariota, who became – and still is – the first quarterback in franchise history to record a touchdown reception.
Mariota also became the first and only NFL player in 2015 to pass for a touchdown, rush for a touchdown and catch a touchdown pass.
Only three players have accomplished this feat since, including Titans running back DeMarco Murray.
The only other rookie in the Super Bowl era (1966–present) to pass, rush for and receive a touchdown pass is Kordell Stewart (1995). Prior to Mariota, the most recent player to record touchdowns of at least 40 yards passing, rushing and receiving in the same season was Walter Payton in 1983.
Mariota was not the only offensive player to reach a significant milestone against the Jets. Tight end Delanie Walker broke Frank Wycheck's franchise record for the most receptions in a season by a tight end (70 in 1998, 2000). Through the Titans' Week 14 contest at the Jets, Walker's season totals registered at 74 receptions for 871 yards and four touchdowns, all of which were team-leading.
At this time, Walker needed 20 more receiving yards to break the franchise record he set in 2014 of 890 receiving yards by a tight end. In the following week at New England (12/20), he racked up 64 receiving yards to break his own record and concluded the season with 94 receptions and a franchise record 1,088 yards by a tight end.
Box Score
Titans 8, Jets 30
Week 14 | Sunday, December 13th, 2015 | 12:00 CDT | MetLife Stadium
| Team | 1 | 2 | 3 | 4 | Final |
| --- | --- | --- | --- | --- | --- |
| Tennessee Titans | 0 | 0 | 8 | 0 | 8 |
| New York Jets | 10 | 17 | 0 | 3 | 30 |