APSU Sports Information

Cape Girardeau, MO – In their first road test in Ohio Valley Conference play, Austin Peay State University (APSU) men's basketball team passed with flying colors, soundly defeating Southeast Missouri in a 78-60 affair at the Show Me Center, Thursday, to remain unbeaten in league play.
From the opening tip, a physical contest ensued, with the opening minutes devoted to both teams testing one another in the first of at least two meetings this season.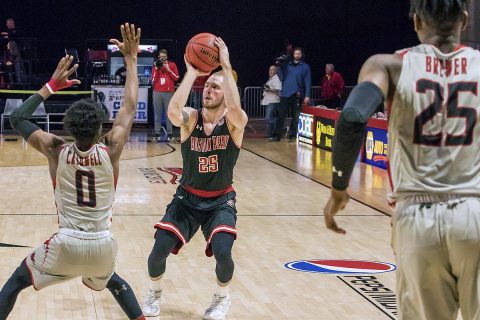 At the 12-minute mark, it was a 10-6 contest with both teams vying for space to create.
Rather than player breaking the game open for the Govs, everyone did a little to open it up. Terry Taylor and Jabari McGhee got good looks to go underneath, which freed up Jarrett Givens to nail the first three of the night at the 9:55 mark to make it 17-11. Givens' three kicked off a 13-3 run, which he bookended with another three with 6:01 to go to make it 26-11.
In the final minute of the period, with Southeast Missouri threatening to cut the lead to single-digits, McGhee made two plays which might've been as dispiriting for the Redhawks as any in the contest. First, with time winding down on the shot clock, he nailed a step-back jumper and then, following an offensive foul, he skied for a putback of a Dayton Gumm miss and tipped it home as time expired, sending Austin Peay into the break with a 37-20 lead.
The second half unfolded the same way many have against the Govs this year. Southeast Missouri would make a run, cutting the lead to 11 or 13 or 14 and each time, Austin Peay roared back to seize the upper hand and leave no doubt who was in charge.
With 10 minutes remaining, the Redhawks cut the Austin Peay lead to 13 on a Ledarrius Brewer lay-up, but a Zach Glotta three-pointer stopped that run and an old-fashioned three-point play by Taylor had the Govs back up 19 with just under eight to go.
Southeast Missouri responded with an 8-0 run but again the Govs answered, first via Givens' third and final three of the night, then on the last of Taylor's team-high 17 points. The Govs would lead by at least 14 points the rest of the night.
The Difference
Good defense continues to lead to easy buckets for the Govs, and Thursday was no exception. Austin Peay forced 17 Southeast Missouri turnovers, and while that's not much more than the 14 the Govs committed, Austin Peay made them count. Austin Peay accrued 22 points off turnover, compared to just nine for Southeast Missouri, including just two in the second half.
APSU Notably
Austin Peay has now won four in a row against Southeast Missouri for the first time since a seven-game winning streak from 2008-11.
Since the Calvary contest (December 8th)—a span of eight games—the Govs are hitting 51.3 percent (257-of-501) as a team. That includes a 37.5 percent (60-of-160) mark from beyond the arc.
The Govs have won four in a row at the Show Me Center, tying for longest road win streak by either side in series history (Austin Peay, 2001-04).
Glotta sank three three-pointers and now needs just three more to break into Austin Peay's career top-10.
Southeast Missouri attempted just 46 shots from the floor, fewest by an Austin Peay opponent this year. The Redhawks also made just two three-pointers, another season-low allowed by the Govs.
Freshman Antwuan Butler raised his assist-to-turnover ratio since December 21st to 3.7-to-1.
The Govs have started January 3-0 for the first time since 2010-11.
Gumm scored his 500th career point during the contest.
Austin Peay is outscoring its opponents 22.0-12.3 in points off turnover thus far in OVC play.
Taylor's 17 points was his 40th career double-digit night in 49 career games as a Governor, while also putting him past 800 points in his Austin Peay career. He also led the Govs in rebounding for the 10th time this season and tied for the team high in assists for the first time in his Austin Peay career.
The Govs are 10-0 when outshooting their opponent this season.
McGhee is averaging 10.1 points, 6.3 rebounds and 1.1 steals on 67.5 percent shooting since the Purdue Fort Wayne contest (seven games).
Coaching Quotables with APSU Head Coach Matt Figger
On weathering SEMO runs
"I didn't want to put any panic in our guys. You're on the road, teams are going to go on runs, it happens. You've got to be able to play through them, you've got to be able to answer. (Jarrett) Givens hit a big three in the corner that put us back up 16 and that was it."
On having a fanbase in the opposing gym
"It's the best, (hearing), "Let's Go Peay." A coach once told me he preferred playing on the road, he preferred the silence over the boos, but I prefer hearing that, "Let's Go Peay."
Up Next for APSU Govs
The road trip continues Saturday, January 12th with the Governors down in Martin, Tennessee to take on the Skyhawks. Tip-off at the Elam Center is slated for 3:30pm.