Tennessee Lady Vols (12-6 | 1-5 SEC) vs. #1/1 Notre Dame (18-1 | 6-0 ACC)
Thursday, January 24th, 2019 | 6:02pm CT
Knoxville, TN | Thompson-Boling Arena | TV: ESPN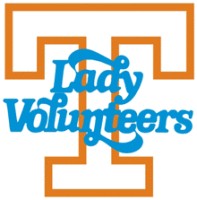 Knoxville, TN – UT's second "We Back Pat" branded game of the week occurs on Thursday night, January 24th as the Tennessee Lady Vols (12-6, 1-5 SEC) steps outside of SEC play to welcome No. 1/1 Notre Dame (18-1, 6-0 ACC) to Thompson-Boling Arena for a nationally-televised contest. Tip-off is slated for 6:02pm CT, with the game being carried by ESPN, the Lady Vol Radio Network and SiriusXM Satellite Radio.
Thursday's match-up represents the second contest in a grueling three-game week for the Lady Vols. LSU, which is idle Thursday night, comes to Knoxville on Sunday for the annual "Live Pink, Bleed Orange" breast cancer awareness game at 1:00pm. Interestingly enough, Arkansas also had seven days to prepare for the Lady Vols, meaning both SEC foes this week had extra prep days prior to playing UT.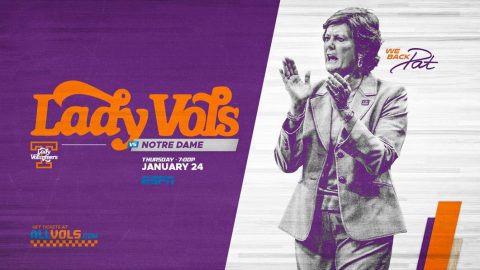 A youthful Tennessee Lady Vol team has endured some tough lessons in SEC play, falling in five straight contests.
Four of those five setbacks, however, have come by a combined total of nine points. UT fell to Arkansas, 80-79, on Monday night in Knoxville and suffered two-point home losses to Missouri (66-64) and No. 16/16 Kentucky (73-71), and a four-point road loss at Georgia (66-62).
Notre Dame, meanwhile, comes to Rocky Top on an 11-game win streak and remains perfect in ACC play. The defending NCAA champion Fighting Irish suffered the team's only loss of the season on December 2nd, as UConn went to Purcell Pavilion and handed Muffet McGraw's squad an 89-71 setback. The Irish squad has been on a tear since then, however, with its closest game being a 14-point victory (82-68) over current No. 4 team Louisville on January 10th.
Thursday's match-up provides a similar scenario to the last time these teams met in Knoxville. On January 16th, 2017, an unranked Lady Vols squad toppled No. 6/6 Notre Dame, 71-69, on a jumper by Jaime Nared with just over 10 seconds remaining.
Broadcast Information
Adam Amin (play-by-play), LVFL Kara Lawson (analyst), Rebecca Lobo (analyst) and Holly Rowe (sideline) will describe the action for ESPN.
Mickey Dearstone is handling the call for IMG College/Lady Vol Network radio/online broadcasts for the 20th season. A link to the live audio stream can be found on each game's Hoops Central page or the Lady Vol schedule on UTSports.com.
Air time for games on the Lady Vol Radio Network generally occurs 30 minutes prior to tip-off.
For UT home games, the Lady Vol Network has a low-power transmitter that makes the game available on the radio at 99.3 FM.
The game also can be found on Sirius 94, XM 190 and on SiriusXM app 961.
"We Back Pat" Week
"We Back Pat" Week is celebrated by all 14 teams in the SEC, and many other basketball programs around the world take time to observe the occasion as well. The initiative, which utilizes promotional public address announcements, video endorsements and television exposure to share a very important message, focuses on raising awareness of Alzheimer's disease and The Pat Summitt Foundation's role in fighting it.
Fans are encouraged to wear a "We Back Pat" shirt to the game. "We Back Pat" shirts are available for sale at the Vol Shop. Each shirt contains a special code for a discounted ticket to both UT "We Back Pat" games (Arkansas & Notre Dame).
Orange and purple shakers, courtesy of the Pat Summitt Foundation, will again be available Thursday night for fans to pick up from the Fan HQ table at Section 129 while supplies last.
There will be a check presentation from the Pat Summitt Foundation to the Pat Summitt Clinic at UT Medical Center during the first quarter of the Notre Dame contest.
To learn more please visit www.patsummitt.org, like the foundation on facebook.com/webackpat, and follow it on Twitter and Instagram @webackpat.
Other Promotions
There will be a "We Back Pat" coloring contest. Present your coloring sheet at the gate to receive free admission & bring to the Fan HQ table at section 129 to be entered. Must be 12 & younger to enter. Entrants must download (PDF) their coloring sheet from UTSports.com.
Kids 12 & younger can pick up a wristband at the Fan HQ table on the concourse to participate in the pregame high-five tunnel. Wristbands are limited. To purchase discounted group tickets and reserve wristbands for your team, call 865.946.7000.
Help us Spark the Summitt during Introductions at the game! Download our new free light-up app, courtesy of Coca-Cola. Once downloaded, simply open your Hoops Hype app when the lights go out, and let your phone do the rest.
Stay in your seat for a halftime performance by the world famous acrobat, Red Panda.
Tickets are available for as low as $15.00 at AllVols.com.
Free parking & shuttle service is available from UT's Ag Campus. Shuttles begin two hours prior to tip.
Tennessee Lady Vols – Notre Dame Series Notes
The Tennessee Lady Vols hold a 21-7 all-time record vs. Notre Dame, dating back to November 25th, 1983.
Muffet McGraw started her career 0-20 vs. Tennessee, but is 7-1 since then and has developed the Irish into a national power.
The Fighting Irish had claimed the last six encounters between these programs until UT pulled off the upset of the nation's No. 6/6 team, 71-69, two years ago in Knoxville.
That Irish run began when #9/7 Notre Dame defeated the #4/4 Lady Vols, 73-59, in an Elite Eight match-up in Dayton, Ohio, on March 28th, 2011.
UT came out on fire last season in South Bend and looked on its way to a two-game series streak of its own. The Irish, however, rallied from 23-down in the second quarter to defeat the Lady Vols, 84-70.
The Tennessee Lady Vols are 9-2 all-time in Knoxville, 8-4 at Notre Dame and 4-1 at neutral sites vs. the Irish. The teams have never played an overtime game.
The series has returned to a typical home and home rotation) after Notre Dame played back-to-back games at Thompson-Boling Arena in 2013 and 2014, and UT visited Notre Dame in 2015 and 2016.
Holly Warlick is seeking her second win vs. Notre Dame as head coach in her seventh game vs. the Irish.
UT (1987, 1989, 1991, 1996, 1997, 1998, 2007, 2008) and Notre Dame (2001, 2018) have combined for 10 NCAA Championships.
These two teams have played only seven games that were decided by 10 or fewer points, with Tennessee winning five of them. The scores were: 62-57 UT on 11/24/84, 71-63 UT on 12/9/85, 85-82 UT on 1/12/92, 74-64 UT on 3/30/2008, 77-67 ND on 1/28/13, 88-77 ND on 1/19/15 and 71-69 UT on 1/16/17.
#1/1 Tennessee hit 7-of-8 three-pointers for a school-record percentage of 87.5% in a 105-70 victory at Notre Dame on January 7th, 1994.
UT's Angie Bjorklund knocked down seven threes at Notre Dame on January 5th, 2008, tying a (then) school-record (now tied for fourth) for most treys by a Lady Vol in a single game.
Tennessee is 110-28 all-time vs. ACC schools, going 1-0 this season so far with a 78-66 victory over Clemson at the Junkanoo Jam in Bimini, Bahamas, on November 22nd.
About the Tennessee Lady Vols
20 Club
Evina Westbrook is just the fourth Lady Vol (and first sophomore) in the past decade to have nine or more 20-point games in a season. Other Lady Vols to achieve that feat are Jaime Nared (10, 2017-18), Diamond DeShields (10, 2015-16 & 9, 2016-17) and Meighan Simmons, (10, 2012-13 & 2013-14).
Zaay Stepping Up
Freshman guard Zaay Green has really stepped up her scoring game in SEC play, ranking as UT's second-leading scorer at 11.3 points per contest. She is shooting .446 from the field and averaging 5.7 rebounds, which is third on the team.
London Calling
Cheridene "London" Green is shooting 50 percent from the field and is averaging 9.0 points and 9.3 rebounds for the Lady Vols in the past six games. The senior forward is fourth for UT in scoring and first in rebounding.
Facing No. 1
The Tennessee Lady Vols is 0-1 vs. No. 1 teams during the Warlick era, dropping a 73-60 decision to No. 1/1 Stanford in Knoxville when the Lady Vols were No. 10/11 on December 22nd, 2012, during Warlick's first season as head coach. All-time, UT is 14-32 vs. No. 1s. The last win over a No. 1 was on March 6, 2005, when #5/4 UT def. #1/1 LSU, 67-65, in the SEC Tournament final in Greenville, SC.
Vs. No. 1 While Unranked
UT is 1-1 vs. No. 1 teams while unranked. The Lady Vols lost to No. 1 La. Tech, 72-64, at home on January 10th, 1982, and beat No. 1 Old Dominion, 67-64, in Norfolk, Va., on January 25th, 1985.
In Search Of The Trio
In its 12 wins, UT's Rennia Davis (15.6), Meme Jackson (14.7) and Evina Westbrook (14.3) are all averaging double figures in scoring. Zaay Green and Cheridene Green provide 9.3 and 8.3 ppg. In its six losses, Westbrook is averaging 21.8, Zaay Green 12.0, Davis 9.5, Cheridene Green 8.7 and Jackson 7.0.
Last Time Out For Tennessee Lady Vols
Despite an 18-point second-half performance from sophomore point guard Evina Westbrook, the No. RV/17 Tennessee Lady Vols fell to Arkansas, 80-79, at Thompson-Boling Arena on Monday night. Westbrook's game-winning 3-point attempt came up short, as the Lady Vols fell in their first of two home "We Back Pat" games this week.
Westbrook led Tennessee with 24 points and five assists, while freshman guard Zaay Green (17 points and six rebounds) and senior forward Cheridene Green (15 points and 12 rebounds) had productive nights. Cheridene Green dominated the glass and recorded her third double-double of the year on 5-of-9 shooting.
The Razorbacks had three players with at least 10 points, as senior guard Malica Monk led Arkansas with 23 points. Chelsea Dungee (19 points) and Alexis Tolefree (16 points) were the other Razorbacks with double-digit points. Arkansas logged 12 3-pointers and 20 points off turnovers in the win.
About Notre Dame
Notre Dame returned four 2017-18 starters, plus another from 2016-17 who was injured last year.
ND's only loss came to UConn, 89-71, on December 2nd.
Head coach Muffet McGraw won her 900th career game on December 30th against Lehigh, 95-68.
Notre Dame won the 2018 NCAA title on a last-second three-pointer by Arike Ogunbowale, taking down Mississippi State, 61-58.
Ogunbowale averaged 20.8 ppg. to lead N.D., while Jessica Shepard added 15.6 ppg. and 8.1 rpg
The Irish's Last Game
Notre Dame won its 11th consecutive game on Sunday, beating Boston College, 92-63, at home.
The Fighting Irish (18-1, 6-0) got pts./rebs. double-doubles from Jackie Young (18/13) and Jessica Shepard (11/10), while Arike Ogunbowale dropped a game-high 24 points on the Eagles (13-6, 2-4).
The Last Time We Met
Meme Jackson scored 18 points, but it was not enough as No. 5/5 Notre Dame overcame a 23-point second-quarter deficit to hand the No. 6/7 Tennessee Lady Vols its second loss of the season, 84-70, on Jan. 18, 2018, at Purcell Pavilion.
After taking a 60-50 lead into the fourth quarter, the Lady Vols (16-2, 4-1 SEC) fell into an offensive slump, and were outscored 34-10 to close the game. The Fighting Irish (17-2, 5-1 ACC) were efficient throughout the second half, shooting 66 percent from 3-point range and committing just three turnovers.
All five UT starters reached double figures. Jaime Nared recorded 14 points and six boards, while Mercedes Russell, Rennia Davis, and Evina Westbrook netted 12 each.
Arike Ogunbowale had a strong offensive performance for Notre Dame, leading the way with 27 points, while Marina Mabrey added 20 points.
Last Time Tennessee Lady Vols Hosted Notre Dame
Jaime Nared drained the winning jumper with 10.3 seconds remaining, Diamond DeShields scored 20 points and Tennessee clawed its way back to seize a 71-69 upset win over No. 6/6 Notre Dame on January 16th, 2017, at Thompson-Boling Arena.
After trailing most of the game, the Lady Vols (11-6) flipped the script in an exciting fourth quarter.
DeShields' high-energy play at both ends of the floor to start the fourth turned a nine-point deficit (62-53) into a two-point deficit (62-60). She had eight points, five rebounds, one block and an assist in the fourth to spark the UT comeback while Notre Dame was just 3-for-14 in the fourth.
With under five minutes remaining, Schaquilla Nunn made back-to-back put-backs and UT trailed just 65-64. Mercedes Russell made two clutch free throws with 2:32 to go to keep it a one-score game and Meme Jackson buried a corner 3-pointer 1:22 left to put the Lady Vols up 69-67.
Notre Dame's Lindsay Allen quickly answered with a jumper to tie the game at 69-69. On UT's next possession, Nared connected from 15 feet to put Tennessee up for good, 71-69.
Coming Up for Tennessee Lady Vols
The Tennessee Lady Vols play its third straight home game on Sunday, January 27th as LSU visits The Summitt for the Live Pink, Bleed Orange game at 12:00pm CT (SEC Network).