APSU Sports Information

Clarksville, TN – Add another chapter in the rivalry. Austin Peay State University (APSU) men's basketball team staged a furious late-game comeback but it fell short by the thinnest of margins in a 73-71 decision that saw archrival Murray State survive by the skin of its teeth before an ESPN2 audience, Thursday night.
Austin Peay (18-8, 10-3 Ohio Valley Conference) suffered just its second defeat in the Dunn Center this season, while visiting Murray State (20-4, 11-2 OVC) remains tied atop the conference with Belmont.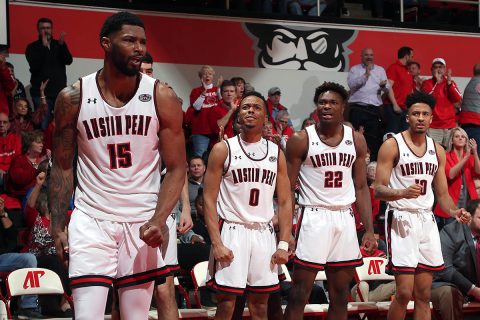 The opening minutes were a track meet, befitting an Austin Peay team that loves to run and a Murray State squad piloted by a likely lottery pick in Ja Morant.
Austin Peay charged out to an 11-6 lead thanks to a trio of three-pointers—two from Zach Glotta and another from Terry Taylor.
The Racers rallied to not only take a lead but grow that lead to nine points with just over minutes remaining in the half. But the Govs would cut that lead to three with 90 seconds left in the half on a 9-3 run highlighted by back-to-back buckets from Chris Porter-Bunton.
However, Morant beat the first-half buzzer to send the visitors into the break with a five-point, 40-35 advantage.
Early in the second half, the Racers would increase their lead to 10—the first double-digit lead of the night for either team—by going on a 7-0 run after Taylor opened the half with a hook in the lane. A Porter-Bunton runner would stop the slide and an Isaiah Hart three would cut into the lead, but the Racers would keep a mid-size lead through the early minutes of the second half.
A pair of free-throws from Jarrett Givens at the 6:04 mark cut the deficit to seven. A minute later, Porter-Bunton swished a three and suddenly it was GAME ON in the Dunn Center. Morant followed with two free throws and a jumper, answered by a pair of freebies from Porter-Bunton to make it a six-point Austin Peay deficit at the final media.
Jabari McGhee had a chance to halve the deficit with 2:42 to play but the free-throw portion of his and-one opportunity rolled off. However, a Darnell Cowart charge on the other end—his fifth foul—and a KJ Williams miss on the front end of a one-and-one allowed Taylor's floater to bring the game to within a bucket with 90 seconds left.
Williams atoned for his miss on the following Racer possession, collecting a Morant miss and putting it in to double the Murray State lead. The following possession ended in a Governor miss, but Murray State's Morant was out of bounds when he grabbed the ball, restoring possession to the Govs and allowing Porter-Bunton to collect his 19th and final point of the night on a jumper in the lane to cut it to two.
On a Morant miss and Racer tip out of bounds, the Govs collected possession again. Steve Harris took the inbound and raced over halfcourt to call timeout with 13.3 remaining. On the in-bounds, Harris dribbled around the top of the key and swung to McGhee, who kicked over to Glotta.
The senior got a look and fired; Harris collected it under the glass and went back up, but—reminiscent of a certain OVC semifinal in 2016—his putback was right at the buzzer and the refs went to the monitor. Harris' putback was waved off and the Racers escaped with a win.
The Difference
In a game this close, the devil was truly in the details. So we turn to points off turnover, where the Racers were able to cash in 11 points on just five Austin Peay miscues, whereas the Govs mustered only eight points on nine Racer turnovers. The five turnovers did equal a season-low for the Govs, initially set against Liberty, December 22nd.
APSU Notably
With his 25-point performance against the Racers Thursday night, Taylor is now averaging 21.1 points over 10 home games this season. He finished as Austin Peay's leading scorer for the 25th time in his career with his 50th career double-digit scoring effort.
More Taylor: over the last six games, he's averaging 23.8 points on 56.3 percent (54-of-96) shooting from the floor and 85.2 percent (23-of-27) shooting from the free-throw line.
The streak continues, with the Govs now at 23 consecutive games shooting 40 percent or better from the field as a team.
En route to a game-high 32 points, Morant set opponent season-highs for free-throws made (11) and attempted (13) against the Govs this season.
The 40-35 deficit at halftime marked Austin Peay's first time entering its home locker room trailing in 2018-19.
With 10 points and 10 boards, McGhee posted his third career double-double as a Gov over his last five outings, he's averaging 11.8 points on 61.4 percent (27-of-44) shooting from the floor, with 6.4 boards to go with it.
Austin Peay held the Racer reserves without a bucket, the first time this season an opposing bench has gone scoreless and the fewest points put up by an opponent's reserve unit since February 23rd, 2017 at UT Martin (3).
The Govs committed just 11 fouls, equaling their season-low set back in the OVC opener against Eastern Kentucky.
Porter-Bunton scored the 900th point of his Austin Peay career and is averaging 13.7 points and 5.0 boards over the last three games.
The loss is Austin Peay's first in February and first on Thursday in almost a calendar year (February 15th, 2018 against Tennessee Tech).
Coaching Quotables with APSU Head Coach Matt Figger
On becoming great
"In order to do that, you've got to win these games at one. We've had two opportunities against two really, really good teams in Murray State and Belmont and we wasted them. We could've been in a great position and we wasted them, all because of our inexperience in how to win a big game."
On the end
"We didn't quit. We're down 11 and kept fighting. I give them credit; they disrupted us. They didn't let our guards catch the ball where they wanted to, we didn't fight hard enough to get open. If I didn't get the ball in some action between Terry and Chris, we weren't getting the ball where we wanted it to go."
On Murray State
"All credit to those guys. They were well-prepared. Tevin Brown is sneay-athletic. Shaq Buchanan is a tough, hard-nosed kid. They've got a special player in Morant."
Up Next for APSU Govs
No time to hang one's head after this one. The Govs leave bright and early Friday morning for Morehead State, where they will square off against the Eagles in a 3:35pm (CT) contest, Saturday.