Austin Peay (20-8 | 12-3) vs. UT Martin (10-16 | 5-10 OVC)
Saturday, February 23rd, 2019 | 4:00pm CT
Clarksville, TN | Dunn Center

Clarksville, TN – One last home contest awaits the Govs in the 2018-19 campaign, as Austin Peay State University (APSU) men's basketball team finishes the Dunn Center slate by hosting UT Martin, Saturday, February 23rd.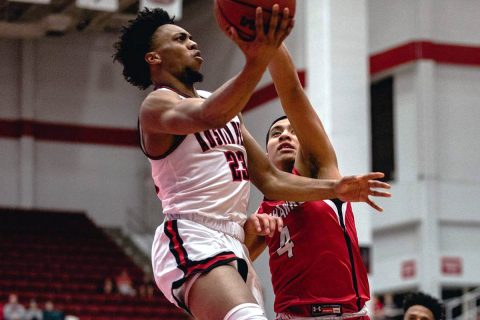 This contest will be the last chance for the Austin Peay faithful to honor a quintet of seniors–Jarrett Givens, Zach Glotta, Steve Harris, Jabari McGhee and Chris Porter-Bunton–for their contributions to the program.
Game sponsor Tennova Healthcare will be giving away 500 rally towels for the first fans in attendance, so get to the Dunn Center early to get yours.
About the UT Martin Skyhawks
Opponents have hit 47.9 percent from the floor against UT Martin, so it should be little surprise to know that Austin Peay hit 58.0 percent in their last meeting; what might be surprising is that the number has dropped precipitously in recent weeks, with opponents hitting just 42.2 percent from the floor over the last five games, including two against Murray State and Jacksonville State–ranked second and fourth in the league in shooting, respectively.
UT Martin does well for itself on the offensive glass (11.8 offensive rebounds per game, fourth in the OVC), which makes the Skyhawks 23.2 mark on the defensive end–last in the league, at just 67.1 percent of possible defensive boards–so befuddling. They were able to hold Austin Peay to just nine offensive rebounds in the last meeting, below the Governors 11.4 average.
APSU Govs Last Time Out Against UT Martin
A power outage, several UT Martin runs and a last-gasp shot at the buzzer were among the things Austin Peay survived in a 72-70 slugfest at the Elam Center back on January 12th. After racing out to a 16-11 lead, the Govs were off-put by a power outage with 8:01 remaining in the first half and never quite put the Skyhawks away.
Despite never trailing in the second half, the Govs never led by more than five points but needed a Terry Taylor block at the buzzer to stave off Skyhawks.
Keep An Eye On
With a victory, Austin Peay would finish with 10 victories at home in back-to-back seasons for the first time since 2009-10 and 2010-11.
Over the last five games dating back to February 7th, Austin Peay has committed fewer than 10 turnovers in five straight games. Forget about the last time that happened since electronic record-keeping began in 1999-00 (spoiler: it has not happened during that stretch), in 13 of 19 seasons from 1999-00 forward, there were not five such games in the entire season.
From February 4th, 2010-December 30th, 2013 there were five total games with fewer than 10 turnovers for the Govs, across four seasons.
Taylor is one of seven Division I players who have accumulated 200 or more offensive boards the last two seasons.
A win would be the Austin Peay's 21st win, most since a 24-win campaign in 2007-08.
Five Govs, led by Taylor (20.5 ppg) average double-digits at home. The Govs are shooting an incredible 51.0 percent (372-of-729) from the floor, 41.7 percent (101-of-242) from three and 72.4 percent (163-of-225) at the line, while boasting a plus-7.8 rebounding margin and a plus-7.6 turnover margin in the Dunn Center. The Govs are averaging 91.6 ppg in 11 home contests this season, going 9-2, with a plus-24.3 scoring margin.
Senior Chris Porter-Bunton must average 17.0 ppg over his final three regular-season games to reach 1,000 points in his career ahead of the OVC Tournament.
A victory would be OVC win No. 13 for the Govs, most since 2010-11.
Taylor needs seven points to pass Bubba Wells (560, 1994-95; 21st), 10 to pass Tyshwan Edmondson (563, 2010-11; 20th), 12 to pass Doug Stamper (565, 1962-63; 19th) and 17 to pass both Nick Stapleton (570, 2000-01; 17th) and Otis Howard, 570, 1977-78; 17th) on the single-season scoring list. He needs 15 points to pass Ralph Garner (1,098, 1973-77; 28th) and 22 to pass Reggie Crenshaw (1,105, 1994-98; 27th) on the career scoring list.
APSU Govs Online
Check back at LetsGoPeay.com and on Austin Peay's Official Athletics Facebook page often for up-to-date news about all Governor athletics, as well as the Governor men's basketball Twitter page (@AustinPeayMBB). Live stats will be available during the game at PeayStats.com, and all home games and Ohio Valley Conference games can be viewed on the ESPN+ app. Postgame video interviews and other videos from around APSU Athletics can be found on our YouTube page (www.youtube.com/letsgopeay).
OVC basketball tournament all session packages are still available for purchase! All session packages can be purchased for $80.00. You may purchase your package by visiting www.letsgopeay.com/buytickets or calling 931.221.PEAY. If you are unable to attend but would like to purchase a package to sponsor a student attending the tournament please call 931.221.7224.