APSU Sports Information

Clarksville, TN – Tatiana Lopez and Honoka Nakanishi won their program-record 10th straight doubles match, leading the Austin Peay State University (APSU) women's tennis team to a win, 7-0, over Southeast Missouri, Friday, at the Governors Tennis Center.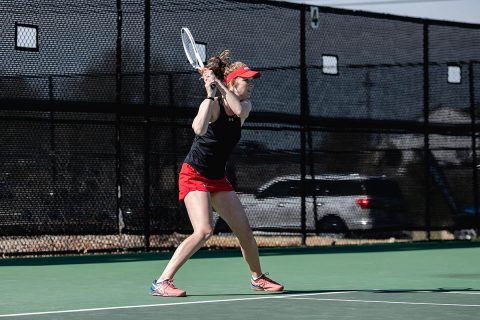 Despite Lopez and Nakanishi winning 6-3 at No. 1 doubles to claim the record, the Governors (15-0, 3-0 OVC) needed a great display of clutch tennis to take the doubles point.
The Redhawks (8-7, 1-2 OVC) fought back with a win at No. 3 doubles, before Lidia Yanes Garcia and Claudia Yanes Garcia won a tiebreaker, 8-6, to win at No. 2 doubles and give the Govs a 1-0 lead.
In singles, the Govs were continuing to be tested. Lidia Yanes Garcia easily won the first set of her match at No. 2 singles, but the Redhawks players were battling hard at the No. 1, 3, and 4 spots. Claudia Yanes Garcia was down multiple games twice, but came back to even her first set up at 5-5 at the No. 1 position. At No. 3 singles, it was quite the opposite for Lopez. Lopez, who led 3-0 and 5-3, saw her opponent come back twice to force a tiebreaker.
Fabienne Schmidt also saw her opponent fight back from being down multiple games, but won the second set 6-4 after holding serve while up 5-4. Claudia broke her opponent for the third time in the opening set and held on to win 7-5, before Lopez ended her marathon first-set with a clutch tiebreak win, meaning the Govs were a set up in all four singles matches being played.
There was no drama in Lidia's second set, with the senior taking it 6-2, to put the Govs up 2-0. Lopez got off to a quick lead in the second and this time put the foot down, also winning her second set 6-2 to put the Govs up 3-0.
Claudia was down 4-1 in the second set and just like in the first set, rallied from behind to win, 7-5, and claim the win for the Govs. The 7-5, 7-5 victory keeps her now 14-match dual singles winning streak alive (15 overall), tied for fourth all-time with Caroline Weikard.
Schmidt lost the second set of her match at the No. 4 spot, but rebounded in the super tiebreaker in the third set, taking it, 10-5, to claim another Govs victory on the day. Helena Kuppig also won in straight sets, 6-0, 6-2, to win her 11th straight singles match. Danielle Morris won at No. 6 singles as well by default. She was up 5-4 in the first set before her opponent retired.
The Govs host UT Martin, at 2:00pm, tomorrow. The match is scheduled to be played outdoors, but could be played indoors. Check @AustinPeayWTN for any schedule changes.
Box Score
Austin Peay 7, Southeast Missouri 0
Doubles
1. Honoka Nakanishi/Tatiana Lopez (APSU) def. SINHA, Sneha/ZONOVA, Kseniya (SEMO) 6-3
2. Lidia Yanes Garcia/Claudia Yanes Garcia (APSU) def. VELKOSKA, Teona/KRUPA, Isabella (SEMO) 7-6 (8-6)
3. BARRIGA, Manuela/TARAJOVA, Romana (SEMO) def. Fabienne Schmidt/Danielle Morris (APSU) 6-3
Singles
1. Claudia Yanes Garcia (APSU) def. TARAJOVA, Romana (SEMO) 7-5, 7-5
2. Lidia Yanes Garcia (APSU) def. ZONOVA, Kseniya (SEMO) 6-3, 6-2
3. Tatiana Lopez (APSU) def. KRUPA, Isabella (SEMO) 7-6 (7-4), 6-2
4. Fabienne Schmidt (APSU) def. EMELIE, Anais (SEMO) 6-4, 5-7, 1-0 (10-5)
5. Helena Kuppig (APSU) def. VELKOSKA, Teona (SEMO) 6-0, 6-2
6. Danielle Morris (APSU) def. SINHA, Sneha (SEMO) 5-4, retired
Order of finish: Doubles (1,3,2); Singles (2,3,1,4,5,6)