Clarksville, TN – Two Ohio Valley Conference doubleheaders at UT Martin and SIU Edwardsville will close out the 2019 regular season for the Austin Peay State University (APSU) softball team this weekend.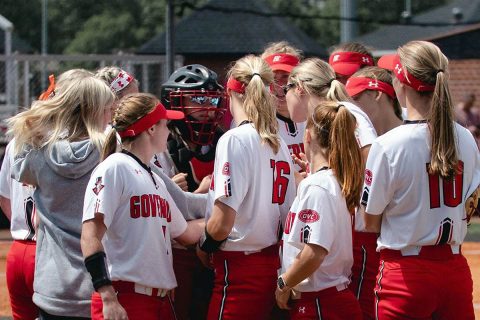 The Governors (28-19, 13-5 OVC), who enter the weekend still in the hunt for a regular-season OVC title with four wins, open the weekend's action, 1:00pm, Friday at Bettye Giles Field versus UT Martin, followed by a,1:00pm Sunday twinbill at Cougar Field versus SIUE.
Heading into this weekend's action, the Govs have six players hitting .300-or-better on the season, led by Danielle Liermann, who is batting .368 this season, with an OVC-leading 17 home runs and 44 RBIs.
She is followed by Kacy Acree (.352, 6 HR, 26 RBI), Carly Mattson (.331, 10 HR, 29 RBI), Kelsey Gross (.315, 3 HR, 20 RBI) and Morgan Rackel (.314, 9 HR, 36 RBI).
Although not qualifying for the team lead for batting average after missing a month of action due to an ankle injury, freshman Lexi Osowski is batting .402, with 2 HR and 14 RBI.
In the circle, Rackel continues her impressive final campaign for the Govs, coming in with a 19-6 overall record, a 1.97 ERA and 196 strikeouts in 163.2 innings of work.
Rounding out the APSU Govs pitching staff are Gross at 5-1, with three saves, a 1.74 ERA and 35 strikeouts in 56.1 innings and Kelly Mardones (4-12, 4.40 ERA, 39 strikeouts in 86 innings).
About the UT Martin Skyhawks

The Skyhawks (29-24, 10-10 OVC) enter the weekend, like the Govs, having already qualified for the OVC Championship Tournament, after sweeping Tennessee Tech last weekend and lead the conference in stolen bases.
Offensively, UT Martin is led by Paige Clark (.396, 1 HR, 24 RBI) and Haylee Short (.326, 1 HR, 25 RBI), while Alli Fulcher leads the team in home runs (7) and RBIs (33).
In the circle, the Skyhawks have four pitchers with at least six wins each, led by Lexi Ray (8-7, 2.90 ERA, 43 K's) and Hannah Ridolfi (8-9, 3.41 ERA, 45 K's). Erin Gallagher leads the team in ERA at 2.62, with a 7-4 record and 72 strikeouts.
About the SIU Edwardsville Cougars

The Cougars (15-24, 7-11 OVC) enter the weekend sitting in the eighth place in the conference's standings but must win at least two of their final four regular-season contests to qualify for the OVC Championship Tournament field.
Offensively, the Cougars have three players hitting .300-or-better this season, led by Alyssa Heren (.363, 0 HR, 14 RBI) and followed by Alana Cobb-Adams (.314, 1 HR, 12 RBI) and Zoe Schafer (.313, 6 HR, 28 RBI).
In the circle, Corrina Rivas leads the Cougars pitching staff, with an 8-9 record, a 5.18 ERA and 60 strikeouts in 105.1 innings of work.
APSU Governors Hit and Run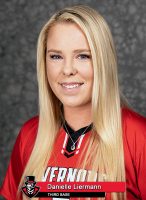 With four wins this weekend, the Govs will tie for the OVC regular-season championship.
Senior Danielle Liermann needs to score one more run to become the ninth player in program history to reach 100 runs scored in a career.
Senior Kacy Acree needs five hits to pass Austin Peay Athletics Hall of Fame member Andrea Miller for second-place all-time in program history in career hits, with 211.
Senior Natalie Schilling needs two stolen bases to tie for the program's all-time lead with 57.
Junior pitcher Kelsey Gross is one strikeout away from 150 in her career.
Senior Kacy Acree needs one stolen base to become the fourth player in program history to reach 40 stolen bases in a career.