Brentwood, TN – The Ohio Valley Conference (OVC) announced today that five Austin Peay State University softball team members earned All-Ohio Valley Conference recognition for their outstanding play this season at the OVC Tournament Awards Banquet.
A program-tying four athletes were placed on the All-OVC First-Team.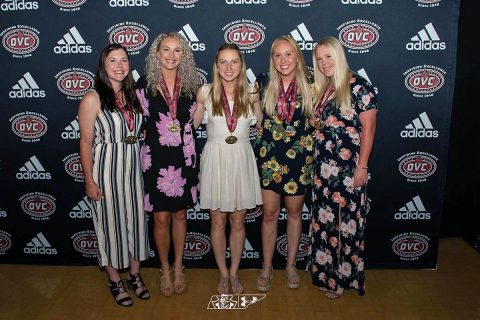 Seniors Danielle Liermann (utility/designated player), Kacy Acree (outfield), Carly Mattson (catcher) and Morgan Rackel (pitcher) were all first-team selections, while freshman third baseman Lexi Osowski was named to the All-OVC Second-Team and the All-OVC Newcomers Team.
This year's four first-team selections tie the 1994 team, who also placed four players on the All-OVC First-Team, including two future APSU Athletics Hall of Famer members: Angela Thompson and Andrea Miller.
Jacksonville State joined the Govs with four All-OVC First-Team selections, while Southeast Missouri had three and Eastern Kentucky rounded out the first-team with one selection.
For Liermann, who is batting .370 this season with 50 RBIs and a league-leading 18 home runs, this is the third All-OVC First-Team selection of her career.
It also ties Miller, Thompson and Lauren de Castro for the most first-team selections in APSU history.
Rackel's selection is the second of her career, after transferring from Weatherford College after her sophomore season, with the left-hander being one of only two pitchers this year in the OVC to record at least 20 wins, while leading the conference in strikeouts (219).
For Acree — who is batting .369 this season, with 41 runs scored, 13 doubles and 30 RBIs — this is her first time being selected to the All-OVC First-Team, after being named to the All-OVC Second-Team as a junior and all-newcomers team as a freshman.
This is also the first time Mattson has earned All-OVC regular-season honors in her career, although she was named to the All-OVC Tournament Team last year, batting .310 this season and leading all OVC catchers in doubles (12) and home runs (10).
Despite missing a month of action – totaling 16 games – due to an injury early in the season, Osowski put up solid numbers in earning her All-OVC Second-Team and All-OVC Newcomers Team selections, being one of only five players overall in the OVC – and the only freshman — with at least 95 at bats to hit over .400 this season, currently sitting at .406, with 10 doubles and only three strikeouts total this season.
These five All-OVC selections, along with the rest of the Governors, open OVC Tournament play, 3:00pm, Wednesday, afternoon versus the winner of Wednesday morning's elimination game between Belmont and UT Martin.