Clarksville, TN – Austin Peay State University Governor's School for Computational Physics students stepped into the classroom on Monday for their classwork for the first time during their three-week stay at APSU.
After the 36 high school juniors and seniors from across Tennessee settled into their seats in one of Sundquist Science Center's main lecture halls, they took in what they'll learn during the next few weeks.
Bryan Gaither – lab manager for the APSU Department of Physics, Engineering and Astronomy – started the day with some explosions. Literally. He detonated three hydrogen-filled balloons with a 15,000-volt Jacob's Ladder.
The explosions jolted the room to whoops and whimpers.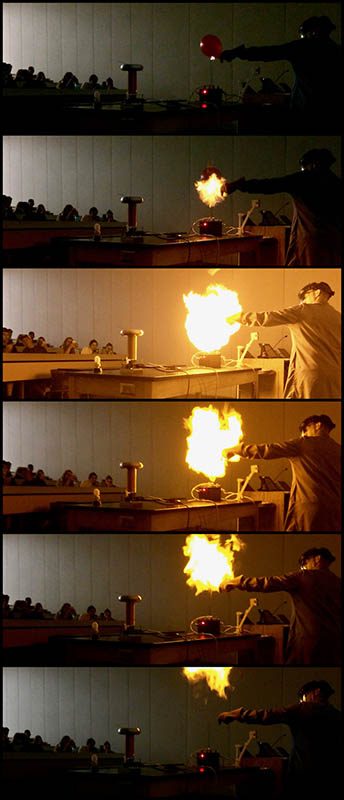 Dr. B. Alex King then ran through the class syllabus. The Governor's School students will earn four college credit hours for completing PHYS 2500 – Introduction to Computational Science and Engineering – and its accompanying lab, PHYS 2501.
King – the chair of the Department of Physics, Engineering and Astronomy – is teaching the classwork in tandem with Dr. Daniel Mayo – an assistant professor in the Department of Mathematics and Statistics.
Dr. Karen Meisch – interim dean of the College of Science, Technology, Engineering and Mathematics – then welcomed the students.
"This is really a great opportunity that not a lot of students get," she said. "I love seeing students come here, learn so much, make so many great friendships and go on to so many great things. A lot of those students end up here at Austin Peay."
Clarksville Mayor Joe Pitts – who was instrumental as a state representative in securing funding for Austin Peay to have the Governor's School – met with the students on Tuesday morning. Pitts has visited the Governor's School nearly every year in its 11-year existence.
Austin Peay aviation science director and chief pilot Charlie Weigandt is scheduled to land one of the University helicopters for the students Wednesday afternoon.
What is the APSU Governors's School?
The state offers 11 programs to high-achieving juniors and seniors across Tennessee. Topics cover science, the arts, business, technology, humanities, international studies and teaching. The state provides scholarships to all the students to cover the costs of Governor's School, including tuition, room and board, and food.
Austin Peay State University provides the Governor's School for Computational Physics, which is an introduction to computational problems in physics and engineering. The school runs through June 21 and includes coding, lab work, class lectures and homework. Gaither also will provide science demos, such as the exploding balloons, throughout.
The highlights of the school are two field trips, one to the National Space Science Technology Center and the U.S. Space and Rocket Center in Huntsville, Alabama, and the other to the National Center for Computational Sciences at Oak Ridge National Laboratory.
To Learn More