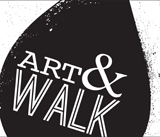 Clarksville, TN – Produced by The Downtown Clarksville Association, First Thursday Art Walk is a free, self-guided tour spanning a 5-block radius that combines visual art, live music, engaging events and more in the heart of Downtown Clarksville.
With 10+ venues, bars and businesses participating each month, the First Thursday Art Walk in Clarksville is the ultimate opportunity to savor and support local creative talent.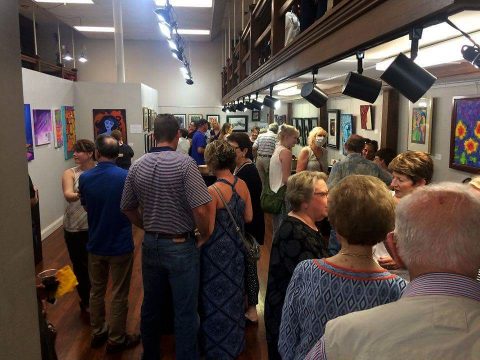 The July Art Walk will be held July 11th, 2019 from 5:00pm to 8:00pm at the shops and galleries on Public Square, Franklin Street, and Strawberry Alley.
The participating businesses are listed below as well as a description of the work they will be exhibiting and services they will be offering during the event.
The Framemaker (705 North Second Street)
For over two decades, The Framemaker has offered a unique selection of frames and art services to the Middle Tennessee area.
Artist Information
Salvaged Light: Works by Greg Sand
The Framemaker proudly presents works by Clarksville, Tennessee artist Greg Sand. This exhibit is part of Clarksville's First Thursday Art Walk on July 11th, 2019. An opening reception will be held from 5 p.m. to 8 p.m. The exhibit will remain on display at the Framemaker throughout the month of July during normal business hours (Monday through Friday 10:00am to 5:00pm).
Greg Sand states: "My work is about memory, the passage of time, mortality, and the photograph's role in shaping our experience of loss. Photography's unique ability to capture a fleeting moment allows it to expose the temporality of life. "By giving me the absolute past of the pose… the photograph tells me death in the future… I shudder over a catastrophe which has already occurred."
These words from Roland Barthes's Camera Lucida precisely describe how I feel when I consider a photograph so old that the subject must be dead. My response has a number of layers: I feel an immediate connection to the living person in the photograph, followed by a dread of what inevitably is to come for them, completed by a sense of grief over what has, of course, already transpired. This reaction is why my work utilizes found photographs, which I manipulate to create a narrative exploring mortality. My work aims to question the nature of photographs and challenge the traditional definition of photography.
Greg Sand is an artist and photographer who explores the issues of time and death. He produces work that addresses the nature of photography and its role in defining reality. Sand received his BFA in Photography from Austin Peay State University in 2008. He has won the acclaim of both jurors and audiences, winning numerous awards and honors. Sand currently produces work in Clarksville, Tennessee, and exhibits across the United States.
The Framemaker is located at the corner of North Second Street and Georgia Avenue, across from the Clarksville Academy.
The Roxy Regional Theatre (100 Franklin Street)
Peg Harvill Gallery
For those who enjoy the visual arts, the Peg Harvill Gallery, located just beyond the lobby, hosts twelve shows annually featuring locally and nationally known artisans. Shows generally open the first Thursday of each month for our First Thursday Art Walk.
Artist Information
During the month of July, the Roxy Regional Theatre's Peg Harvill Gallery will feature the work of Gail Meyer to complement the Roxy's production of the delightfully nutty British comedy "Charley's Aunt", playing July 12th through July 27th.
Truly eclectic in nature, Gail Meyer's new exhibit revolves around women in everyday life scenarios of today and yesterday. In her expressionistic style, she interprets this theme through her paintings of figures, still life and cityscapes.
For tickets to and information about our current production of "Charley's Aunt", please visit www.roxyregionaltheatre.org or call the box office at 931.645.7699.
Additional gallery hours are Monday through Friday, 9:00am–2:00pm.
The Customs House Museum (200 S. 2nd Street)
The Customs House Museum and Cultural Center is Tennessee's second largest general interest museum. It features fine art, history, and children's exhibits.
Exhibitions
The Art of Peggy Bonnington
July 3rd – Sept 1st | Harvill Gallery
Specializing in handmade papers and mosaics, local artist Peggy Bonnington brings her whimsical studies of color and shape to the Museum. Peggy is Co-Founder & Volunteer Artist Teacher at Arts for Hearts and is a member of the Downtown Artists Co-op. The exhibit will include both 2D and 3D pieces.
The Mysterious Captain Weems
Through September 29th | Memory Lane
New donations to the Museum's collections supplement the story of Captain PVC Weems, who lived in Clarksville as a child and went on to invent navigational devices. The exhibit includes a sextant, navigation plotting ruler, and a star position calculator.
Remembering D-Day: 75th Anniversary
Through September 29th | Memory Lane
This exhibition presents World War II artifacts from the Museum's collections and private collections including plans and maps of Normandy along with World War II Senate surrender documents signed by Dwight D. Eisenhower and General Douglas MacArthur.
Batter Up! Celebrating America's Pastime
Through July 28th | Crouch Gallery
Batter Up! is an exhibition of baseball memorabilia, local history, and artifacts that includes 1927 World Series game ball, Nolan Ryan's jersey from his final season, and local celebrity Clark Coyote. Sponsored by Legends Bank.
Sharon Rusch Shaver: The Way I See It
Through July 25th | Orgain/Bruner Galleries
Gallatin, Tennessee artist, Sharon Rusch Shaver paints the world around her. In 2008 the artist was awarded an Artist-in-Residence at Glen Arbor Art Association in Glen Arbor, MI. Shaver was commissioned to do a painting for the White House in Washington, D.C. in 1999, which is a part of their permanent collection.
Shaver's works are collected by major corporations such as Brown- Forman in Louisville, KY; Wal-Mart in Bentonville, AR; Blue Cross and Blue Shield, as well as private collections throughout the country.
Here Comes the Bride
Through July 21st | Jostons Gallery
This exhibition features wedding dresses, vintage photos, announcements, cake toppers, hair pieces and more from the Museum's collections.
Edward's Steakhouse (107 Franklin Street)
Come enjoy the best steaks in Clarksville in a relaxed atmosphere with live piano on Friday and Saturday night. We also offer Clarksville's largest wine selection in town from around the world. 10% Military and APSU discount daily
Artist Information
Edward's Steakhouse is proud host local photographer, David Smith, during the July 2019 First Thursday Art Walk.
David Smith is a retired U.S. Army Still Photographer, who came to the Clarksville area in 1976 as a member of the 101st Airborne Division. He returned to Clarksville with his family after his retirement from the military. Most of the photographs are of Landscapes and scenery but he also tries to photography the City of Clarksville. "I feel that it's important for a photographer to help preserve the history through photographs."
He is a member of The Friends of Photography here in Clarksville. His photographs have been displayed in Edward's Steakhouse, Tennessee State Museum, Customs House Museum and F&M Bank in Clarksville and Springfield and has been featured on local program, Tennessee Crossroads.
Stop in, see the art, listen to Jackson Miller on the piano and enjoy the Thursday night special, 1/2 priced $7.00 appetizers and 2 for 1 draft drink specials.
Clarksville Parks and Recreation (102 Public Square)
The Clarksville Parks and Recreation department is thrilled to host Stephen Schlegel during the July 2019 First Thursday Art Walk.
Countless organizations have invested in me over the years. As a retiree, formally trained Graphic Designer and Photographer, one of my primary efforts is to support organizations that have a limited or no budget for graphics. I firmly believe they should be represented by effective visual design.
Most of these organizations accomplish so much with limited resources. Frequently, our introduction to an organization is through graphics and logos. These nonprofit groups need to be effectively represented; they need a seat at the graphics table. Because of this, I come alongside these organizations to support their mission by providing photography and graphic design. These groups touch the lives of so many, it is my honor to assist them with their needs.
Galleries • stephenschlegel.com
Instagram • stephen__schlegel
Facebook • messenger.i68 (Stephen Schlegel Graphics & Imaging)
Twitter • @stephenschlegel
Roux Americajun Restaurant (125 Franklin Street)
Roux is proud to support the July 2019 First Thursday Art Walk, but will not feature an artist this month.
Stop in and grab something to eat as you check out the other galleries located in Historic Downtown Clarksville.
Mildred & Mable's (109 Franklin Street)
Mildred and Mable's is proud to support the July 2019 First Thursday Art Walk.
Stop in and check out a new look and all of the great gift and clothing options!
Journey's Eye Studio (131 Franklin Street)
Journey's Eye Studio will host local artist, Jane Olson, during the July 2019 First Thursday Art Walk.
Jane Sharpe Olson is a native Tennessean, originally from Memphis. She is a graduate of Vanderbilt University with a degree in European History and French, and a minor in Art History. She is a practicing attorney with Olson & Olson, PLC in downtown Clarksville.
Bright, strong colors and images permeate her art, and she uses mainly watercolor paints and manipulated, hand-painted papers in her paintings and collages. Jane finds inspiration in the works of famous artists such as Cezanne, Picasso, Matisse, and Kadinsky, as well as Abstract Expressionists.
She is a member of the Downtown Artist's Co-op of Clarksville, Tennessee. You can see more of her art online at Facebook/janeolsonart and on Pinterest:Jane Olson/My Paintings Board.
Couture Crush (101 Franklin Street)
Couture Crush is proud to support the July 2019 First Thursday Art Walk.
Stop in and find the perfect piece to spice up your Summer wardrobe , during the July First Thursday Art Walk!
Yada Yada Yada Deli (100 Strawberry Alley)
Yada, Yada, Yada Deli is proud to support the July 2019 First Thursday Art Walk!
Hot Pita (136 Franklin Street Suite 100)
Hot Pita is proud to support the July 2019 First Thursday Art Walk, but will not feature an artist this month.