Clarksville, TN – On Tuesday, July 16th, 2019, the Austin Peay State University (APSU) volleyball team head coach Taylor Mott unveiled the 2019 schedule. A challenging preconference slate awaits the Governors.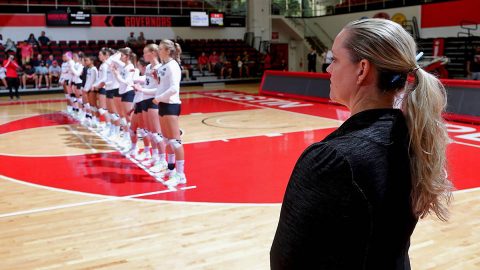 The Governors will play five matches against teams from the "Power 5" conferences in the season's first seven contests.
That formidable opening run begins at North Carolina State's Wolfpack Invitational, August 30th-31st, which will pit APSU against host and Atlantic Coast Conference member North Carolina State, Big 10 foe Maryland, and Big 12 Conference member Kansas State.
The next weekend Austin Peay travels north to Evanston, IL for the Wildcats Invitational hosted by Northwestern. The Govs will meet host Northwestern, Big 12 Conference foe Texas Tech and Southland Conference member Stephen F. Austin.
Week 3 of the 2019 will see the Governors head west for the Mizzou Invitational. They open their stay in their first visit to the Show Me State against host Missouri before facing off against Boise State, Kansas City (formerly UMKC) and Northern Iowa.
One last weekend of nonconference action will send the Govs north again for the Ball State Active Ankle Challenge. There the Govs will meet host Ball State followed by outings against Missouri State and Wright State.
"I am excited about our schedule this season," said Mott. "We will be facing several teams we have not played in recent years like North Carolina State, Maryland and Kansas State in our opening weekend in Raleigh. It will also be our first time heading to Evanston where we will play host Northwestern, SFA and Texas Tech.
"We also will see some familiar teams in the likes of Missouri, Kansas City and UNI at the Mizzou Invitational but probably one of the best parts of our schedule will be the Ball State Tournament where several of our athletes will get to play in their home state and in front of friends and families."
The season-opening 16-match road trip continues in Week 5 with a final nonconference tune up against Western Kentucky, Tuesday, September 24th, before Austin Peay opens Ohio Valley Conference action. The opening weekend of play sees the Governors travel to SIU Edwardsville and Eastern Illinois in the opening pair of a eight-match OVC road slate.
Austin Peay State University begins its eight-match home slate – all OVC contests – Friday, October 4th when Southeast Missouri visits the Dunn Center. The Govs then face UT Martin (October 5th) and Murray State (October 9th) in the three-match homestand. APSU then returns home for league tests against Tennessee State and Belmont (October 18th-19th) Eastern Illinois and SIUE (November 1st-2nd) and a home finale against Eastern Kentucky, November 16th.
The remainder of the Governors OVC road slate includes trips to Morehead State (October 12th), Tennessee Tech and Jacksonville State (October 25th-26th), Southeast Missouri and UT Martin (November 7th-8th) and Murray State (November 13th).
The 2019 OVC Volleyball Championship will again be hosted by the regular-season champion to be held November 21st-25th. The NCAA Division I Women's Volleyball Championship opens two weeks later with first-round action, December 5th-6th at 16 campus sites.
Highlights Of The 2019 Governors Volleyball Slate
The Govs will play five matches against teams that participated in the 2019 NCAA Women's Volleyball Championship: Missouri, Murray State (twice), Northern Iowa and Stephen F. Austin.
Ten of the 25 teams finished among the Top 100 in the NCAA's RPI last year. That includes, Northern Iowa (16), Missouri (31) and Stephen F. Austin (42) who were each ranked among the Top 50. Austin Peay State University finished 2019 with a RPI ranking of 67.
The scheduled season-opening 18-match road trip will be the longest road trip in program history. It will top the 17-match road trip by the 1986 team, which went 6-11 during its excursion.
It also will break the 16-match season-opening road trip mark set by the 2007 Governors team, which posted a 7-9 record.
APSU will face five programs for the first time in its history: Boise State, Kansas State, Maryland, North Carolina State and Northwestern.