Clarksville, Tn–Many Governors excelled at Eastland Green Nine South with personal records and school records as Austin Peay State University men's cross country finished third at the APSU Cross Country Invitational, Saturday Morning.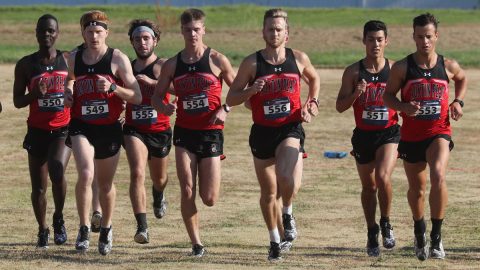 Junior
Thomas Porter
breaks the school record in the five-kilometer race after he finished 8th for the Governors with the time of 15:21.51.
Nash Young
joined Thomas in breaking the school record time only finishing five seconds later after Porter and placed 9th with a record time of 15:26.17.
Hezron Kiptoo
was not far from the first two runners after Kiptoo timed less than 10 seconds and only two spots from Young (11th) with the time of 15:35.98.
Daniel Davis finished with a personal record for the season after he clocked 15:40.34 and placed a top-15 finish (14th). Joseph Redman was spotted just two after Davis when Redman finished with a personal record for the season of 15:48.39 (16th). Elliot Reed recorded a top-20 finished after he placed 20th with the time of 16:06.35.
Ryan Martin secured a top-25 for the Governors with a personal record for his young career when he timed 16:19.45. Newcomer William Norris finished from over a minute from his first official race as a Governor when Norris posted a 28th finish with the time of 17:02.73.
"We are seeing everybody having good races," said head coach Valerie Brown. "You can look at Edwardsville and some of our guys had an outstanding time, and then in this meet, we had guys who struggled in Edwardsville but stepped up and had a better race today."
Saturday's meet was the first time ever the Govs had five runners to score in the top-15. Eight of the nine runners had personal best times. "Having assistant coach Sarah-Emily Woodward on board has taken group in the right direction on where we like to go moving forward," said Coach Brown.
The Governors will head to Owensboro, Ky to battle out in the Fast Cats Classic October 12th.