Clarksville, TN – Clarksville Street Department crews are working diligently to clean up storm debris and make repairs to signals to ensure the Clarksville's streets and roads are safe to travel in the wake of Saturday's severe wind storm.
In addition, Clarksville Street Department crews continue to remove debris and assist CDE Lightband and its regional utility partners as crews repair power lines.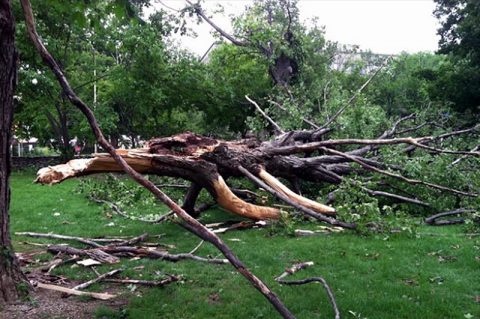 These streets are still closed to travel until trees and utility lines can be removed:
Bunker Hill Road
Linda Lane
E Street
Current Road
More than a dozen traffic signals were knocked out of service because of storm damage or power outages. Almost all are back up and working as power is being restored and repairs made. However, as of noon Wednesday, two signalized intersections are still without power and several other traffic control systems are damaged and out of service.
They are:
Purple Heart Parkway at Jordan Road.
Fort Campbell Boulevard at the Purple Heart Parkway ramp.
Madison Street lane direction arrows between Pageant Lane and Tenth Street.
Flashing light at Charlemagne Boulevard and Lafayette Road.
An electrical contractor will work this weekend to restore the Madison Street lane direction system. Drivers are advised to be cautious of repair crews and equipment in the area.
The Clarksville Street Department has also identified more than 50 street lights that are in need of repair and expects to find more as an inventory of the storm damage continues.
Fall Limb and Debris Removal
The Clarksville Street Department also has expanded its fall residential limb and yard debris removal program in the wake of the storm. Tree debris must be cut into 6-foot sections and stacked by the road.
Pick-up crews are proceeding through the City one neighborhood at a time, and will come back for a second round as storm cleanup continues. Residents are asked to be patient as crews focus on the neighborhoods that were hardest hit by the storm.
Here is a list of subdivisions and neighborhoods that have received a round of debris pick up:
Belmont Heights, Boxcroft, Boyd Acres, Cabot Cove.
Chandler Place, Chestnut Grove, Collier Estates, Cunningham Place.
Darnell Estates, Dogwood Hills, Dunnaway & Shelby.
Fairlane, Fontainebleau, Ford Street.
Lafayette Road, Lealand, Lintwood Heights, Louise Heights.
Minglewood Acres, Morrison Estates, Mossland.
New Providence Boulevard (both sides).
Nichols & Darnell, North Haven, Northwest Estates.
Oakland Heights, Olympic Village, Rose Hill, South Haven.