Clarksville, TN – Sally Allen of Clarksville Academy recently invited a few lucky individuals to stop by for the school's annual Literacy Day.
"Each year, we bring a favorite Christmas story to life for our Pre-K – 5th grade students," Allen said. "This year, we will use the book Frosty the Snowman. Our library will be transformed into the magical world of Frosty, and it's sure to be a hit with our students."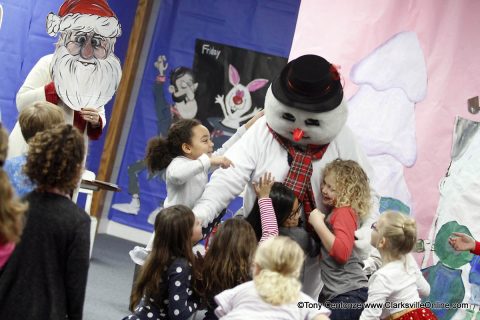 "Mr's Goostree started Literacy Day about seven years ago," CA Librarian Dana Procter said. "We usually do this on the first Friday of December. We choose one of the children's classic Christmas stories like Frosty the Snowman or Polar Express, and then all our Pre-K – 5th grade classes get to come and see the production. All the helpers get to enjoy it too, as well as some of the students from middle school and high school. All our kindergartners have Senior Buddies, so they get to enjoy this together."
"We had a great team this year," Education Assistant Lisa Wilson said. "Emily Nguyen, Ivy Sleigh, Zoe Drake, as well as Maddie Dozier, and her mom Georgina really played a big part in bringing this to life. That is the team that created all the artwork and put all the sets together. It took us all a full week. In fact, we stayed until about 6 p.m. last night, trying to get everything done.
"It has been so much fun for all of us. We always start off with a limited scope of what we are going to design and build. and before you know it, the creative juices are flowing, and we end up covering the entire library."
Alan Austin, a volunteer dad, narrated this year's Frosty. Gina Goostree was Professor Hinkle, CA Head of School Jennifer Hinote was Santa Claus, School Nurse Melinda Parker was Frosty's friend Karen, and Jeff Derico was Frosty. The magical bunny rabbit was brought to life by various high school students throughout the day.
Seeing the reaction of the kids as they watched the story unfold was priceless.
"I love watching the kids when they come in and actually see the story, that's my favorite part," Wilson said. "I was in the back doing sound effects the first time we ran through it today, and I could hear the kids laughing. This time, I'm going to stay out front, so I can see the reactions on their faces."
Photo Gallery