Austin Peay (5-5) vs. Duquesne (9-0)
Saturday, December 21st, 2019 | 1:30pm CT
St. Petersburg, FL | McArthur Gymasium

Clarksville, TN – For the second year in a row, the Austin Peay State University (APSU) basketball team will end the pre-Christmas slate in Florida, taking on Duquesne and Alabama State in the 2019 St. Pete Shootout, hosted by Eckerd College.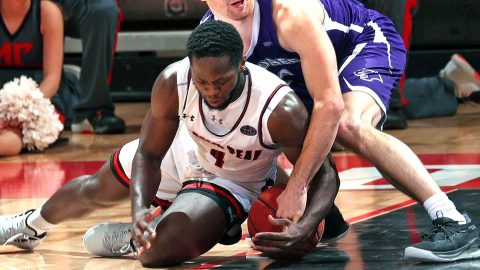 After his 39-point outburst against McKendree, Terry Taylor is now the nation's fourth-leading scorer at 23.8 points per game; no Gov has averaged better than 23 points per game for a season since Nick Stapleton (23.1 ppg) in 2001-02, which was the last season a Gov finished top-10 in Division I in scoring; Stapleton finished seventh nationally.
While the Govs won the St. Pete Shootout last year, this year's is classic-style, with no true victor.
The Govs will conclude their Florida excursion, Sunday, with an 11:00am (CT) contest against Alabama State.
About the Duquesne Dukes
One of four unbeaten programs left in the nation, Duquesne has achieved its success on the strength of a stifling defense which is among the nation's top-10 in scoring defense (56.0, sixth), three-point field goal percentage (25.0 percent, seventh) and blocked shots (6.7 bpg, fifth).
Now the Dukes will face Austin Peay State University's Terry Taylor, who comes in on the heels of a 39-point performance and is the nation's fourth-leading individual scorer. How Duquesne's Michael Hughes (3.0 bpg) and Marcus Weathers (1.78 bpg) control the interior and, to a larger extent, Taylor, will dictate the flow of the game.
Offensively, the Dukes are diverse; six Dukes average at least 9.0 points per game, with Hughes the only player on the roster to reach double-figures in two-thirds of Duquesne's contests. The Dukes do all the little things that all winning teams seem to do well–Duquesne makes free-throws (78.0 percent, 14th nationally), protect the ball (109 total turnovers, 11th-fewest) and don't commit fouls (14.9 per game, 40th), all strong foundations for good teams the Govs will need to crack in St. Pete.
Last Time Out Against Duquesne
This the first meeting between the Govs and Dukes; it's Austin Peay State University's first meeting with an Atlantic 10 foe since the 2016-17 regular season opener at Dayton.
Keep An Eye On
A win against both Duquesne and subsequently Alabama State would keep the Govs unbeaten at the St. Pete Shootout.
Breaking 80
The APSU Govs are 5-0 this season when scoring 80 points or more and 0-5 when falling below that threshold. Likely related, the Govs are also 5-0 when shooting 45 percent from the field or better.
Sophomore point guard Antwuan Butler is averaging 10.0 points, 3.3 rebounds, 2.0 steals and 3.8 assists over his last four outings.
The Govs own a plus-2.3 turnover margin over their last seven games.
Austin Peay State University's opponents are hitting 51.8 percent from the floor over the last three games.
In their five wins, the Govs are now hitting 53.5 percent (137-for-256) from the floor; in losses, the Govs are hitting just 39.1 percent from the floor.
Freshman point guard Carlos Paez is averaging 11.2 points on 53.6 percent (15-for-28) from the field, 90.9 percent (20-for-22) from the line and 61.1 percent (11-for-18) from three over his last five games.
Taylor's next 30-point game will be the 10th of his Austin Peay State University career.
A win would be Austin Peay State University's fourth in its last five neutral-site contests.
Taylor, who was the MVP of last season's St. Pete Shootout, is averaging 26.7 points and 9.5 rebounds on 65.3 percent (66-for-101) from the floor and 67.7 percent (21-for-31) from the free-throw line, with 1.7 blocks and 1.2 steals over the last six games.
A win would be Austin Peay State University's first against an Atlantic 10 foe since November 12th, 2010 against Saint Louis.
Milestone Watch
Taylor needs six field goals to pass Wesley Channels for 12th all-time. He also needs 13 rebounds to pass Trenton Hassell for 12th and needs eight defensive rebounds to become the 12th player in program history with 400 defensive boards.
APSU Tickets
Governors Courtside Seating returns for the 2019-20 season. Fans can contact the APSU Athletics Ticket Office for courtside seating availability and pricing.
The VIPeay Hoops Experience, available to Black Tie Monocle Society members and above, also returns for 2019-20 after a successful debut last season.
For more information on joining the Governors in the Dunn Center this winter, to secure season tickets or to become involved with the Monocle Society, call 931.221.PEAY. You can also purchase tickets online at www.LetsGoPeay.com/buytickets; be sure to access the new 360-degree view of the Dunn Center when purchasing tickets.
APSU Govs Online
Check back at LetsGoPeay.com and on Austin Peay's Official Athletics Facebook page often for up-to-date news about all Governor athletics, as well as the Governor men's basketball Twitter page (@AustinPeayMBB). Live stats will be available during the game at PeayStats.com, and all home games and Ohio Valley Conference games can be viewed on the ESPN+ app; unfortunately, there will be no live video of the St. Pete Shootout.