Clarksville, TN – VeinCare Centers of Tennessee, located in Clarksville, nurse practitioner Sandra French recently received the Doctor of Nursing Practice (DNP) degree from the University of Tennessee at Chattanooga School of Nursing.
Prior to receiving her DNP degree, Sandra earned her Masters of Science in Nursing in 2007 and she is board certified as a family nurse practitioner and credentialed by the American Nurses Credentialing Center (ANCC).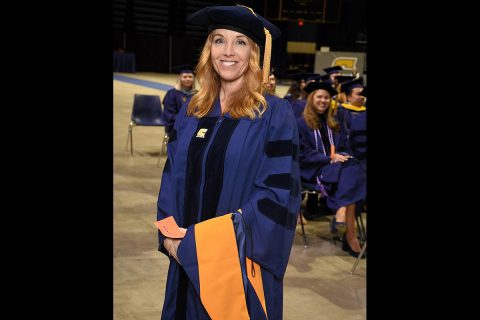 She practiced in family practice and dermatology prior to joining Dr. Daugherty and his staff at VeinCare Centers of Tennessee in October, 2016.
Nurse practitioners are advanced practice nurses who receive extensive training to provide quality evidence-based healthcare to patients. A DNP is one of the two highest degrees for nurses, with the other being the PhD. The PhD is considered a research-based doctorate degree and the DNP is a clinical practice focused doctorate.
Both degrees prepare nurses to be experts, leaders and change-agents in healthcare.
Dr. French is accepting new patients and looks forward to helping Clarksville and the surrounding areas with their vein care needs. VeinCare Centers of Tennessee (VCOT) evaluates and manages venous problems ranging from minor spider veins to complex venous reconstructions. Some of the more common vein problems seen at VCOT include soft tissue leg pain, leg swelling, varicose veins, discolored skin at the ankles, ankle ulcers, venous thrombosis (clotting), and chronic pelvic pain due to venous issues.
Dr. French's doctoral program included design and implementation of a program to educate nurses and physicians in how to recognize pelvic venous disorders which may cause pelvic pain limiting quality of life.
Stephen F. Daugherty, MD, FACS, FAVLS, has practiced vascular surgery in Clarksville since 1994. He founded Vein Care Centers of Tennessee in 2004 and has limited his practice to the care of venous and lymphatic disorders since 2008. VCOT is one of the leading vein centers in the country, especially in management of pelvic venous disorders. VCOT is a component of Allied Health, a physician-owned multi-specialty practice with nearly 500 physicians and mid-level providers in Middle Tennessee.
Drs. Daugherty and French regularly speak as invited faculty at national medical meetings regarding pelvic venous disorders. Daugherty and French are supported by a staff of 11 experienced nurses, Registered Vascular Technologists, and administrative staff. One may learn more about venous disorders at the website, www.TennesseeVeinCare.com