Nashville, TN – For the first time in 2020, the Austin Peay State University (APSU) men's basketball team found itself on the wrong end of the scoreline against an Ohio Valley Conference opponent, dropping a 70-68 affair to Tennessee State at the Gentry Center, Thursday.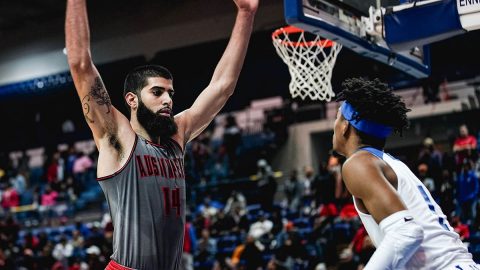 The loss, coupled with Murray State's loss on the other side of Nashville to Belmont, throws the league into something resembling disarray.
After 10 orderly games where Austin Peay State University and Murray State won and everyone else beat up on each other, you can't count out Belmont, Tennessee State and especially two-loss Eastern Kentucky in a suddenly tighter OVC race.
The APSU Govs started out in a fashion we're not accustomed to from them since league play began—trailing. A Terry Taylor bucket was Austin Peay State University's only make from the floor in the opening five minutes and change, while a fully operational Tennessee State was energized by an excited crowd hungry to avoid a reprisal of the January 23rd outcome.
Taylor was the only Gov to make a bucket until Alec Woodard sank a jumper right before the 12-minute mark; by then, Tennessee State had staked itself to a nine-point lead despite Austin Peay State University's best efforts defensively.
The deficit reached double figures and then just as quickly, it was gone. Terry Taylor took over and led the Govs on a 7-0 run, scoring five himself and deferring to Evan Hinson for the other two points. A game threatening to go out of Austin Peay State University's control was suddenly within grasp.
The APSU Govs were never quite able to get over the hump in the first half; every run was met by a TSU bucket or a series of stops. However, Austin Peay went into halftime with momentum when Taylor snagged a rebound, weaved the length of the court, skied for a jumper and tipped in his miss as the buzzer sounded to send Austin Peay into the break trailing by just a point at 37-36.
When Jy'lan Washington and Emmanuel Egbuta each picked up their fourth foul within four seconds of one another less than three minutes into the second half, fortune appeared to finally have smiled upon the Govs in a tie game. However, Tennessee State immediately ripped off a 7-0 run of its own to retake the lead.
Back came the APSU Govs on a 9-0 run that was all Jordyn Adams and Carlos Paez; from then on, it was largely a one-possession affair. The teams traded buckets, stops, fouls, free throws and turnovers before Austin Peay took a two-point lead on an Eli Abaev layup with 6:12 to play.
It would prove to be Austin Peay State University's final made shot from the floor on the evening; the Governors closed the contest with six straight misses from the floor, while Tennessee State's Carlos Marshall Jr. scored eight of his team-high 19 down the stretch to secure the victory for Tennessee State.
And yet, Austin Peay State University remained in the contest until the very last moments. With four seconds to play, Taylor sank two free-throws for the Govs; he secured the miss on the ensuing free-throw put up a heave from beyond halfcourt but it fell by the wayside on this night.
The Difference
Second half shooting was a killer. Tennessee State hit 61.9 percent (13-for-21) over the final 20 minutes, whereas the APSU Govs simply couldn't buy a bucket, hitting just 29.0 percent (9-for-31). And still the Govs had a halfcourt prayer that would've given them the win.
APSU Notably
The loss snaps Austin Peay State University's longest winning streak since 2006-07.
In eight losses this season, the Govs have shot 37.6 percent (175-for-466) from the floor.
The APSU Govs have lost three straight at the Gentry Center.
Taylor (23 points, 14 rebounds) and Abaev (11 points, 10 boards) are the first Govs to record double-doubles in the same game this season.
TSU's eight blocked shots were the most by an Austin Peay State University opponent this season.
Over the last four games, Abaev is averaging 12.0 points and 8.0 rebounds on 48.7 percent shooting from the floor.
Paez has a 3.82-to-1 assist-to-turnover ratio since joining the starting lineup.
The APSU Govs outscored TSU 19-8 in points off turnover; over the last six games, the Govs have bettered opponents 96-64 in points off turnover.
In 11 league games, the Govs are averaging plus-4.6 in rebounding margin and plus-3.8 in turnover margin.
For the eighth time this season, the Govs committed fewer than 10 turnovers; in two contests against the Tigers, Austin Peay State University has given up the ball just 11 times, four in the first contest and seven in the rematch.
Milestone Watch
Taylor moved into the top-five all-time in scoring at Austin Peay with 1,737 points, passing Chris Horton (2012-16) and Otis Howard (1974-78). He also crossed the 3,000-minute threshold for his Austin Peay State University career.
Coaching Quotables with APSU Head Coach Matt Figger
On the overall performance
"We were pathetic from the jump tonight. We got outplayed. We've been flirting with disaster, we've been playing with fire and you get your hand burned when you play with fire. It's hard. It's hard to win, hard to go on the road, in this environment, and play as poorly as we did."
Next Up For APSU Men's Basketball

They say a set back is a set up for a comeback. The APSU Men's basketball team will look to bounceback Saturday afternoon against a Belmont side that just knocked off an unbeaten in Murray State would be a huge confidence boost for the Govs fresh off their first league loss in 2020. Tipoff at Curb Event Center against the Bruins is scheduled for 5:00pm.