Clarksville, TN – Earlier this week before an enthusiastic home crowd at Centurion Gymnasium, the Lady Centurions defeated Dayspring Academy 75-20 to earn their fourth consecutive TNCAA Conference Championship.
In a game where every player contributed, Junior Caroline Watts led the team in scoring with 24, and Junior Alyssa Davis added 22. Both Watts and Davis had 4 steals a piece in the contest.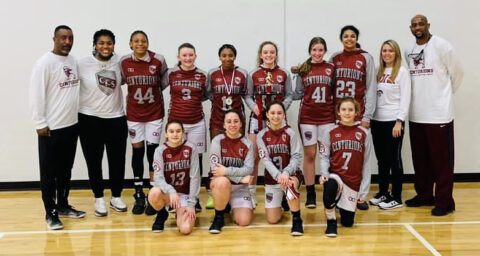 Sixth-grader, Lauren Hassell, got into double digits with 11 points, and also contributed 7 rebounds, 5 assists, and 2 blocks. Davis was named the 2020-21 Conference MVP.
Head Coach Trenton Hassell stated, "I'm so proud of the work the girls put in this year. It was a new and difficult year due to COVID and the schedule we asked them to play."
He added that, "the girls bought in and never complained about anything we threw at them."
Hassell also sang the praises of CCS parents, noting how supportive they were of the staff and players throughout the season.
In a year greatly impacted by COVID-19, CCS President Dr. Brad Moser is especially proud of the way Head Coach Trenton Hassell and his coaches navigated the circumstances.
Moser noted, "It's always an honor to earn a championship, but the way we did it this year is nothing short of astounding. Coach Hassell managed COVID protocols to near perfection while flawlessly orchestrating an exciting and memorable championship effort."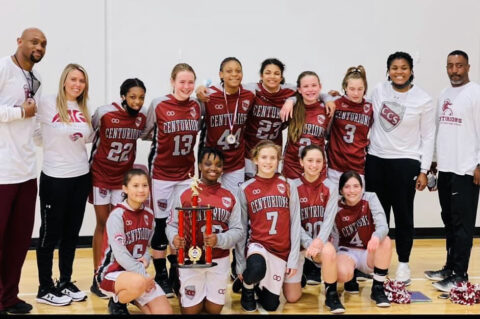 In the game prior to the Varsity Championship matchup, the CCS Middle School team also defeated Dayspring's middle school squad by a score of 41-9 to win the 2020-21 TNCAA Middle School Conference Championship. In that game, Lauren Hassell led the Lady Centurions with 14 points and Marley Key added 12. Hassell was also named the 2020-21 TNCAA Middle School MVP.
Last week during the boys conference tournament, the CCS Middle School and Varsity boys teams, led by Head Coach Charlie Collins, won their conference championships as well.
CCS Athletic Director, Cole Harper stated, "We are extremely proud of what our teams accomplished and the way they accomplished it. This is the first time in school history that all of our basketball teams have won their conference championships in the same season."
About Clarksville Christian School
Founded in 2007, Clarksville Christian School is now the largest Christian school in Clarksville and continues to experience tremendous growth. For more information about Clarksville Christian School, please visit the CCS website at www.clarksvillechristianschool.org.