Not far from Clarksville are walking trails in parks and at nearby Land Between the Lakes. A great way to walk them is with the Tennessee Trails Association.
This last weekend our local Tennessee Trails Association did a litter pickup and debris removal in Rotary Park and on a north-south trail at Land Between the Lakes (LBL). The group removed several bag fulls of trash and moved many wind blown tree limbs off the trail. They left tired, but with a feeling of pride in knowing that they had left the trails in better shape than they found it.
James Arthur Neblett participated in the litter pickup hike this year and last year. He said that it beat staying inside no matter what the weather was, and he is anxious to participate in this endeavor in the future.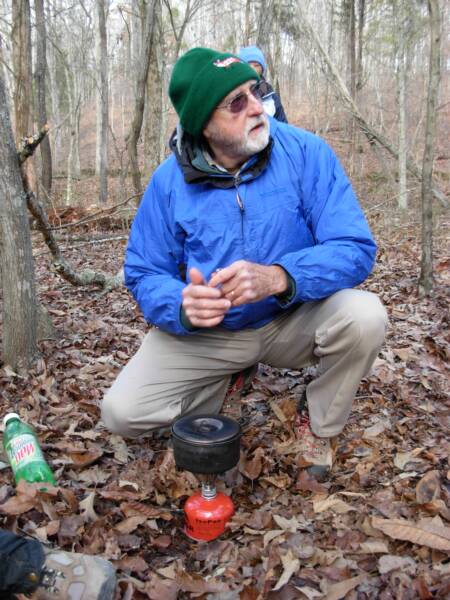 One of the local Tennessee Trails members is J. R. Tate (at left). Among other trails, he has walked the Appalachian Trail four times. It took him six months each time. During his 2006 walk, we got a glimpse of his adventure through diary passages he sent to the Leaf Chronicle. When I asked him his secret to success he said, "Hiking is a matter of moving your right foot, then your left foot. Repeat until you get from where you started to where you end up". He found that the mental part of hiking is a lot more important than the physical part. He kept himself going sometimes on the simple thought of a warm sleeping bag or a great meal ahead. «Read the rest of this article»
Unlike 1999, tornadoes spared Clarksville this time, but ripped through Tennessee and neighboring states on February 5th. In Madison, WI, where my sister lives, it snowed one foot in less than 24 hours. They've had over six feet of snow so far this season, so severe that she and others were told to leave work because snow came down so fast that the plows weren't going out until it stopped. When it comes to climate change, we have our heads in the sand.
The cold and snow is also a symptom of global warming: more heat causes the air to hold more water vapor and more heat dries out some areas — then dumps snow/rain on others. The weird result is both floods and droughts — and snowstorms. The United States hasn't yet recovered from Katrina, but the United States and the rest of the world will have many 'Katrina-like' storms if we don't make huge changes now. I keep writing my senators and congress to pass sweeping legislation to lower carbon emissions (Kyoto). I wrote them recently to make investments in clean energy and 'green' rebates instead of the across-the-board tax cuts. «Read the rest of this article»
We apologize that we are posting these so late, but here are the photographs we took during last week's Presidential Preference Primary. Clarksville Online visited most of the Montgomery County Polling places, and these are representative images from that day.
On the Democratic side: Hillary Clinton took Tennessee with 54% of the vote, followed by Barack Obama with 41%. Even though he had already dropped out, John Edwards still took 4%.
On the Republican side: Mike Huckabee won with 34% of the vote, followed by John McCain with 32%. Mitt Romney garnered 24%, and Ron Paul, who has a vocal group of local followers, took 6%.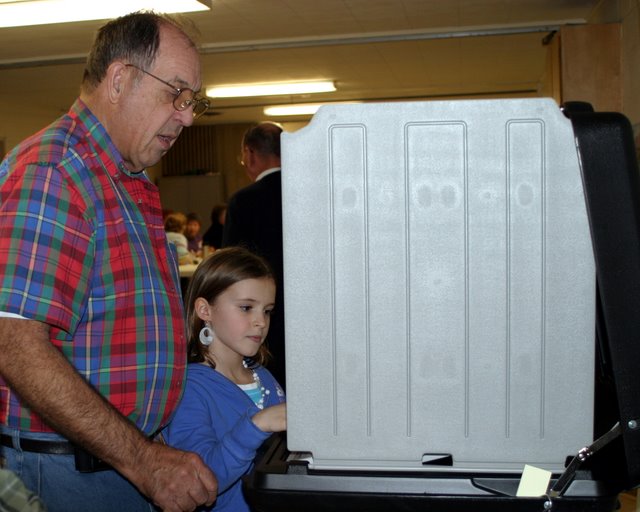 «Read the rest of this article»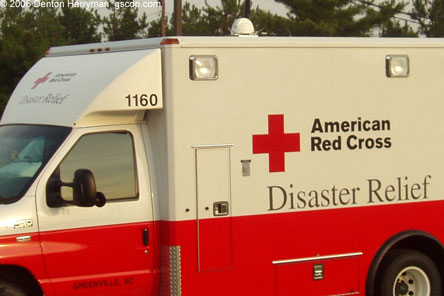 The Red Cross works on the front line of disaster, providing assistance to victims and to the firefighters, police and rescue workers responding to all forms of crisis. The February 5 storms that raked through Tennessee communities were no exception.
The Clarksville-Montgomery Chapter of the American Red Cross opened two service centers last week to assist people in the Indian Mound section and in Houston County, offering assistance with food, rent, clothing, household needs, medical assistance and temporary home repairs that allowed families to return to their homes. The costs add up, and the local chapter is feeling the economic pinch. «Read the rest of this article»
"I left the film feeling a great deal more hope for us all." – Alice Walker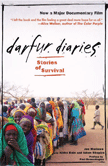 The Govs Programming Council will be showing "Darfur Diaries" at 7 p.m. on Tuesday, February 12 in the Clement Auditorium.
In October, 2004 three activists snuck across the Sudanese border into rebel-held territory to document the atrocities in Darfur. They returned with some of the first footage exposing the massive war crimes being perpetrated by the Sudanese government.
The event is free and open to the public.
Sponsor:  Govs Programming Council
Contact:   Melissa Davis
E-mail: davisma@apsu.edu
On the Web:  http://www.darfurdiaries.org/
Although Tennessee came out for the Clinton camp during the recent presidential primary, the race is far from over; a review of national statistics shows Barack Obama neck in neck with Hilary Clinton. A tight race is underway, with the primary race so close on a national level that both candidates have sent the message down to all their campaign headquarters, especially in the states that have had primaries, to not close their local primary campaign doors yet. The political battle cry: rally the voters and register new voters.
Montgomery County, a county that Barack Obama did not do well in, still has a team of energetic people lead by county campaign manager for Barack Obama, Credo Amouzouvik. This re-energized group of supporters will officially introduce themselves to the citizens of Clarksville-Montgomery County as they rally behind the name Clarksville for Obama on February 15 at the Tropicana Restaurant, 233-A Tiny Town Road in Clarksville at 6 p.m. «Read the rest of this article»
The most important message to send to TN lawmakers is: We must have paper ballots in time for the 2008 Presidential election!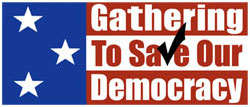 The house state & local government committee rolled our bill (HB 1256) from Feb. 5 to Feb. 12 – this coming Tuesday. It will be heard at 10:30 in Room 16 at Legislative Plaza.
The senate state & local government committee will be hearing our bill (SB 1363) that same day at noon in Room 12.
We expect (but aren't sure) that both bills will pass out of the committees. The next stop is the Finance, Ways & Means committee where the members will consider how the bill would be funded. This is where we anticipate the most difficulty.
However, there are reasons to be hopeful «Read the rest of this article»
A Valentine's Day DVD Recommendation!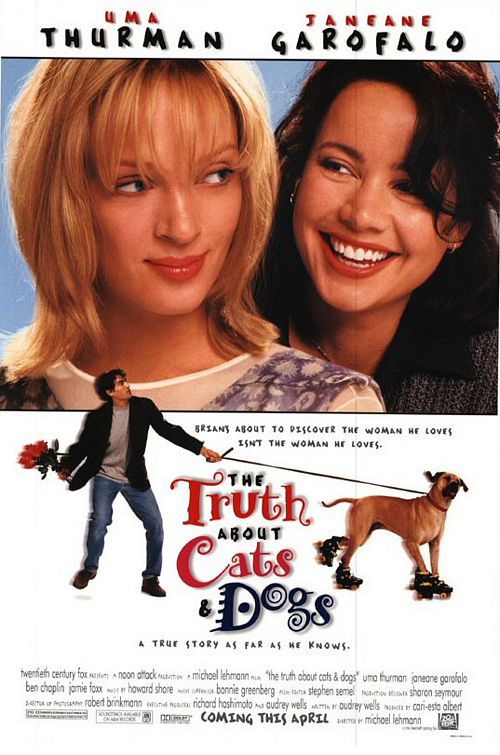 Guys, Here's a suggestion that's sure to be a hit with your significant other! Get a copy of the DVD of the 1996 movie, "The Truth About Cats and Dogs."
The movie is a romantic comedy loosely based on the classic French novel, "Cyrano De Bergerac." Most of us are likely more familiar with the Steven Martin adaptation "Roxanne," only here the gender of the love-smitten" and "the pursued" roles are reversed.
Janeane Garofalo and Uma Thurman gives this "Chic Flick" real entertainment value. Their portrayals are tight and really engaging.
Ben Chaplin plays the role of "Brian," the duped love object of Garofalo's "Abby." He is captivating in his pursuit of his dream girl. The real question is, "Which Abby is the one he really loves?" Fortunately for him, "Hank, the rollerskating dog" helps him figure it out! «Read the rest of this article»

As a United Methodist pastor in Missouri, I served churches in a town of 1200 or less in population. For these labors, the median income average wasn't much to brighten people's lives. The availability of welfare, unemployment and social security checks made for a mere survival for families.
One program that gave hope to parents, and grandparents who were raising grandchildren was the local Head Start program. As we know, Head Start is beneficial and worthy of tax dollars. Even senior citizens with only income from Social Security were wiling to sacrifice for this program and the encouragement it gives families.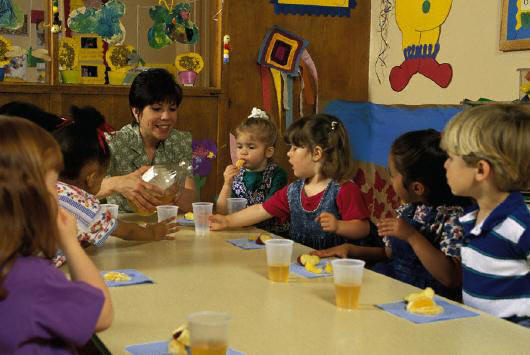 Thankfully, Head Start is funded by our tax dollars. There is only one meaningful and cheerful avenue to that: our tax dollars are funneled to our brothers and sisters who are less fortunate. Head Start is healthy for both family and community.
In November, the Head Start bill passed Congress and was signed in December. In 2007, our politicians in Congress pass this law with a near unanimous vote. They did something good and that action should merit our applause. «Read the rest of this article»
The Met Live in HD continues its stunning season with the February 16 performance of Puccini's Manon Lescaut at Regal Cinema/Green Hills Mall and Opry Mills, both in Nashville. Curtain is at noon central time (1 p.m. ET).
Manon Lescaut (Karita Mattila, above) is set in 18th century France; its heroine emerges from the innocence of girlhood to become the mistress of an old man. Her life spirals downward as she faces deportation and and becomes an imprisoned and despairing soul. The opera opens with a lush elegance of wealth and the highest social strata, descending by Act III to dungeons, doldrums and despair. «Read the rest of this article»