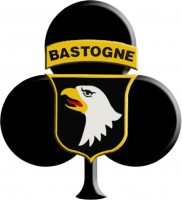 Fort Campbell, KY – The rainy weather that has been over Montgomery County since the early weekend broke for a bit on Monday morning in time to allow 130 soldiers from the 1st Brigade Combat Team to return home without getting a good soaking. The soldiers are returning from a tough year long deployment to the Kunar Province of Afghanistan.  38 Soldiers from the Brigade died while deployed in the war zone, numerous others received life changing injuries.

Family and friends of the returning soldiers had gathered together to give their loved ones a proper welcome home.

15 minutes before the flight arrived the family members were allowed to proceed outdoors to wait on for a chance to see the flight bearing their loved ones arrive.

While the news that Osama Bin Laden had been killed in Pakistan was not high up on the priority list for the families waiting for their loved one to return, most of the waiting family members had heard the news. Their reactions ranged from satisfaction to expressions of relief.

"Hopefully everybody will get to come home now" said Derrick Davis who was waiting on his wife Latoya with their young boys. It had been six months since they last saw their mother.

"Amen!", "It's about time," said another group of family members.

"I think it's fantastic." said Jennifer Brennen a soldier's mom, "It is such a crucial step in a positive direction. It leads people to peace. It's really exciting. I am from Washington D.C., and I was watching the news last night and people were celebrating in the streets. Its such a good feeling." Her husband John added a cautionary note, "The big question is will this be used as a springboard for another attack. You can't just go OK, he's it, and everything is over. We can't let our defenses down. Ever since 9/11 this been a different country." They were waiting for their son Michael to arrive home.

Tina, Lisa, and Jessica were waiting for Spc. Bobby Ray. He is looking forward to eating a deer steak, reuniting with his dog Sonny, and attending a Kenny Chesney concert. One of Bobby's best friends was recently killed in action on March 29th. This prompted mutual friend Angela to come up and see his buddies come return home. "I came up because I know that if he was able to, he would have been here today. So I am here in his place. I'm happy that his unit is coming home, that they get to come home to their families. But it's kind of sad too, because he isn't coming home with them."

At around 8:00am the plane touched down to a chorus of cheers.The soldiers rapidly disembarked from the aircraft and proceeded to march to a assembly point near the hangers to drop off their gear so they could visit with their families. As they approached the waiting families soldiers eyes sought out those special people who were there waiting on them. As they saw each other, smiles broke out on every face.

The soldiers had a duty to perform before they could be truly reunited. They had to drop off their gear so that it could be secured while they were visiting with their families. Then it was time for the soldiers to march into the hanger before the cheering crowd. After a short ceremony it was time for some quality family time. This was the first time many of these soldiers had seen their loved ones since early 2010.

As soon as they were all assembled, the doors to the hanger were opened and the 130 soldiers marched in before the cheering crowd.

After a quick invocation by 101st Airborne Division Chaplin Howard Avery, the Deputy Commander of the 101st Airborne Division Brig. Gen. Jeffery N. Colt gave a few remarks.

"Welcome home Bastogne… It's great to have you back. Your service gave hope to a nation, and your return has certainly brought happiness to many today." he continued  You did a incredible job with a difficult mission, for artillery men specifically, a very non-traditional mission for you. We couldn't be more proud of how you stepped up, your personal example, and your pride in unit.  You should be very proud of yourselves, we are very very proud of you. To all of our loved ones here today, thank you again for coming out. It may be a little gray outside, but it's certainly a much better day now with the return of your heroes and ours."

Then the band began to play the Army Song and the 101st Airborne Division Song.

Afterwards, the soldiers were given 15 minutes to be with their families.

If you are interested in attending a Welcome Home Ceremony, flights are scheduled for Wednesday, Friday, and Monday. Plan to arrive at least 2 hours early. Enter at Gate 7, and follow the signs. Hope to see you there!

The return of the 1st Brigade Combat Team continues, with the entire 101st Airborne Division (Air Assault) expected to be home by the end of June.
Photo Gallery
About Bill Larson
Bill Larson is the Creator and Publisher of Clarksville Online, and works as a network administrator for Compu-Net Enterprises. He is politically and socially active in the community. Bill serves on the board of the Clarksville Community Concert Association, and is a member of the Friends of Dunbar Cave.

You can reach him via telephone at 931-249-0043 or via the email address below.
Sections
News
Topics
101st Airborne Division, 101st Airborne Division Band, 1st Brigade Combat Team, Afghanistan, Bastogne, Bobby Ray, Derrick Davis, Howard Avery, Jeffery N. Colt, Jennifer Brennen, John Brennen, Kenny Chesney, Kunar Province, Latoya Davis, Osama bin Laden, U.S. Army, Welcome Home Ceremony