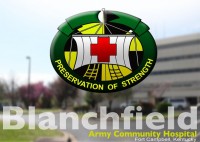 Fort Campbell, KY – The Centers for Disease Control has reported an increase of flu-like symptoms in Tennessee and officials expect the numbers to rise in coming weeks.

"The best ways to prevent getting and spreading the flu is to get vaccinated and follow preventive actions, like washing your hands often with soap and water or hand sanitizer," said Dr. Samuel Peik, chief of the Department of Preventive Medicine at Blanchfield Army Community Hospital.

BACH patients may receive the flu vaccine within their assigned patient-centered medical homes during regularly scheduled appointments or as a walk-in service.

The CDC recommends everyone over 6 months of age should get vaccinated, especially high risk patients like the elderly, young children, pregnant women and anyone with chronic health conditions like asthma, diabetes or heart and lung disease.

"Not only will the vaccine help prevent people from getting the flu and reducing the severity and duration of their symptoms if they do get the flu, but it will help curb the spread of the flu to the higher risk population who may suffer the most harm from the flu," said Peik. "The vaccine helps you protect the people you care about, like your children, grandparents, friends and coworkers with health issues."

Peik said that people should be on the lookout during the flu season for symptoms such as fever, cough, sore throat, runny or stuffy nose, body ache, headache and fatigue.

"Most people who have the flu will recover in a few days, but it could take more than a week for full recovery," said Peik. "The majority of patients with the flu will not need to see their doctor or receive antiviral drugs."

The CDC recommends that most people should stay home for at least 24 hours after a fever is gone without the use of fever-reducing medicine. Individuals with flu symptoms should avoid contact with others, rest at home, drink plenty of fluids and clear liquids and treat fever and cough with the appropriate over-the-counter medications.

"Of course, patients are encouraged to speak with their care team or see a medical provider if they are concerned about the severity or duration of their symptoms or if they are at higher risk, like pregnant women, the elderly and children," Peik said.

Patients assigned to one of BACH's medical homes can reach their care team by sending a secure message through Relay Health or by calling the Appointment Line at 270.798.4677 or 931.431.4677 from 6:00am to 4:30pm Monday through Friday.

Patients should select the options to leave a message for their provider and a member of their care team will contact them and may be able to help determine if an appointment is necessary.

At BACH, providers do not rely on a rapid influenza diagnostic test, instead they treat patients based on their symptoms and specific medical needs. According to the CDC, the ability of the rapid influenza diagnostic tests to detect the flu can vary greatly. A patient could still have the flu, even though the rapid test result is negative.

"Patients who decide to make an appointment or talk to their care team will be diagnosed and treated based on their specific medical concerns and needs," said Peik. "Antiviral medications are not always necessary, but may be recommended for high risk patients, those with more severe symptoms or other medical concerns."

For more information about preventing and treating the flu, please visit www.cdc.gov/flu.



Sections
News
Topics
asthma, Bach, Blanchfield Army Community Hospital, Body Aches, CDC, Cough, diabetes, Fatigue, Fever, flu, Flu Vaccine, Fort Campbell, Fort Campbell KY, Headache, Heart Disease, Lung Disease, Samuel Peik, Sore Throat, Stuffy Nose, Tennessee, U.S. Centers for Disease Control