"Give us back our airways!"
That was the message delivered by the majority of speakers at the Federal Communications Commission's second public hearing on the impact of media consolidation in Nashville Monday. The event drew a crowd of over 500 people from six states and a panel of celebrities to Belmont University's Massey Performing Arts Center. The hearing was the second of six to be held across the country.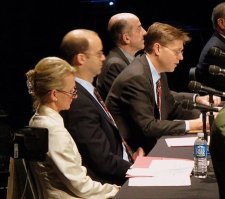 "If anyone tries to tell you that Big Media's push for more consolidation has gone away, don't believe it," said Commissioner Michael Copps. "They haven't gone away, and their lawyers and lobbyists haven't gone away either. So if we are going on to a broader dialogue on the future of media in our democracy, it will be because of citizen action from millions of Americans and testimony at hearings like this one."
"The law tells us that we are supposed to promote the public interest," said Commissioner Jonathan Adelstein. "And I think you, the public, know best what's in your interest and not the lobbyists that we hear so much from inside the beltway."
The hearing gave a celebrity panel of performing artists a forum to discuss how changes in media ownership would negatively impact their lives and work, noting that prior to 1996 changes in FCC regulations that favored consolidation, there were more opportunities for emerging artists and established performers to present their work.
The celebrity panel providing the initial testimony included country music legends George Jones and Porter Wagoner, along with Naomi Judd, Cowboy Troy, Big and Rich, and Dobie Grey.

"If media ownership rules back in 1967 were like they are today, the world would have never heard of Dolly Parton, said Wagoner, a Country Music hall of Fame inductee. "If you can't receive exposure and airplay, you can't sell records. What works in Los Angeles doesn't necessarily work in New York, Miami, Atlanta, Chicago or Nashville."
"Corporate based decisions in the music industry are nothing more than the opinions and decisions of a few people at the top, but their opinions dictate the operation of thousands of radio stations," said George Jones, speaking on behalf of the American federation of Television and Radio Artists.

Singer Naomi Judd said the current system of corporate controlled media "rapes us and pays a pittance" for our work. Judd said "TV will let folks into our homes that you would not want in your living room. You need to hear the voice of public interest," she told the commission. "There is a pitiful disconnect between the people and the conglomerates and that applies not just to radio but to print (media) and television."
When opened to the public for testimony, speakers pled for great diversity in media, stating that corporations based on the East and West coast are out of touch with the rest of the countr, that what plays well in Los Angeles and New York is not necessarily what ther rest of the country wants to hear. Some local artists cited the challenges of breaking into standardized "top 20" playlists and organizational structures that effectively exclude emerging artist and local access to media outlets.
But beyond the concerns of music industry itself, the public cited a need for greater diversity in what comes across the airwaves.
Among the public comments were these statements:
"You can move through seven stations and hear the same thing on every one."
"You can drive across the country and only hear the same few songs. It's not even a top forty list anymore; it's a top 20."
"You used to get a sense of the region, of its culture, by listening to its music, There is no sense of that anymore; it's the same all the way across the country."
People testifying expressed disastisfaction with the monopoly of top 20 music, talk and sports radio, asking for opportunities to hear more locally based programming, alternative music, jazz, classical, blues, world music and a dozen other forms and formats too often excluded from the mass market.
A broad-based coalition of local and national groups worked to turn out the public for this event. That coalition included the American Federation of Musicians, American Federation of Television and Radio Artists, The Belcourt Theater, Center for Rural Strategies, Christian Community Broadcasters, Communications Workers of America, Consumers Union, Earth Matters Tennessee, Free Press, Mid-South peace and Justice Center, Nashville Peace and Justice Center, Newspaper Guild-CWA, Prometheus radion Project, Rainbow/PUSH, Tennessee Alliance for Progress, Tennessee Healthcare Campaign, Tennessee Immigrant and Refugee Rights Coalition, Tennessee Independent Media Center, and WRFN Radio Free Nashville.
The creative community of Nashville has paid a heavy price for media consolidation," said Craig Aaron, communications director of Free Press, the media reform group that coordinates the StopBigMedia.com coalition. "Today they joined with everyday Nashville citizens to speak out for a more diverse, local and democratic media system. It's time the FCC really heard these voices and stopped the wholesale handover of our public airwaves to a few corporations."
Some information in this article drawn from a press release by the group Freepress.
Below is a sampling of the over 170 people who addressed the FCC. (Click on any picture for a larger version)
Alternate versions of these photos are also available at https://www.clarksvilleonline.com/FCC/