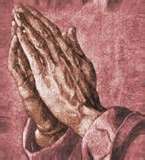 There are benefits in developing our spiritual traits that we hold within. One way to blossom spiritually is through prayer and meditation. A ritual for me is to have a time of spiritual renewal in the morning before leaving for the athletic club. This habit developed in my first parish at Craig, Missouri, after seminary. I still do it 50 years later.
The subject of prayer and meditation was brought to my consciousness through a devotional in The Upper Room, and an article in Newsweek Magazine (1/9/08). In the latter, reference was made to James 5:1, "Elijah was a man with a nature like ours, and he prayed earnestly that it would not rain; and it did not rain on the land for three years and six months and he prayed again and the heaven gave him rain and the earth produced its fruit."
These verses surface some questions about the nature of man, prayer and even God. A study of this passage merits discussion as to its relevancy for us.
In reading Newsweek, I begin with the table of contents to familiarize myself with the nyriad articles in the current issue. Is that issue, the one that caught my attention and my brain and said "read this first" was "Obama's Telephone Prayer Team."
This prayer team is an ecumenical fellowship of spiritual leaders of various religious faiths and beliefs who sponsor a weekly prayer time for this political leader. These dedicated children of God have a unique method for their prayers of safety for the African-American Democratic candidate for the presidency; they have a telephone prayer meeting.
Rev. K. Caldwell, a mega-church pastor, is one of the participants in the prayer team. In commenting on the contents of their prayers, he says:
"Typically, whoever is praying always prays for the senator and his wife, for his safety and surety, soundness of mind, clarity of thought."
The Obama Prayer Team prays every Friday morning as a group, and throughout the week. There are separate weekly prayer and strategy calls for the campaign's Roman Catholic, Jewish, Evangelical and African-American faith groups. The Obama team also immerses their activities in prayer, especially at important events.
The Prayer Team believes in the healing power of prayer and the controversial issues to prayer. Recently, the prayer team "lifted up" the Democratic rules committee, the body designated with the responsibility of apportioning the Michigan and Florida delegates. The prayer cluster with a maturity of faith and judgement vin their prayers asked that there "be sound judegment and fairness."
I am a dedicated supporter and worker for Sen. Obama; now I will be a prayer warrior for him. On Fridays at noonI'll center a time of meditation for this presidential candidate. I invite you to join me. As a prayer fellowship we can pray for wisdom as Obama discovers the challneges and stress of a life in active mode.
For those interested in forming an Obama Prayer Team, write to me at