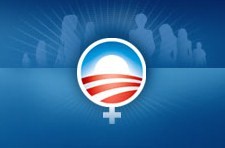 Celebration marks 88th anniversary of passage of 19th Amendment. Tennessee's ratification, as the 33rd state to do so, made the law effective. Many women made great sacrifices to make this legislation the law of the land. It is one of many fronts in the struggle for civil rights.
WomenForObama held a celebratory commemoration of the 88th anniversary of the passage of the 19th Amendment of the U.S. Constitution. It was the 19th Amendment which gave women in the United States the right to vote. The Montgomery County Democratic Party Headquarters was the celebration site with a roster of prominent local women speakers who addressed the significance of women suffrage and civil rights in the furtherance of the American Ideal.
Wanda McMoore was the event moderator. As a mother, nurse, military service veteran and community organizer, she was a prime example of the women in times past who have fought for equality and justice while still balancing the demands of a family and career. She introduced each speaker and kept the event moving along on schedule.
Elizabeth Valdez-Adamski is from the Dominican Republic. She spoke of her childhood memories of being regarded as an outsider, a foreigner, because her skin was different and because she spoke with an accent. Her parents legally immigrated to the United States and worked hard to provide for their children. Yet she saw them suffer discrimination, prejudice and even denial. She has worked against those evils all her adult life as a community organizer. In her native country, it was women, the mothers, who waged the civil rights battles against their oppressive government. She told the gathering that more than anything else, government officials fear an active, involved citizenry. They fear it more than any terrorist threat. Citizens apathy and indifference actually work to a controlling government's favor. To prevent this, every citizen has a responsibility to be engaged and watchful of its government.
LaVerne Walker has made a career as an Equal Opportunity specialist and consultant. Her presentation was an acknowledgment of the women who had come before her in the struggle for civil rights. She told the gathering of women who fought, not just for women's right to vote, but for universal civil rights when it was not a popular argument.
Walker pointed out that the struggle for women's suffrage itself was born out of the struggle for voting rights for former slaves. Women of Color have played prominent roles in the fight for civil rights and for women suffrage. These women were often leading voices in those battles. This was particularly so in the Black community.
Isabella Baumfree is an unassuming name. She is better known as Sojurner Truth – and was a civil rights activist born in Ulster County, New York. Her given surname meant "tall as a tree," which was appropriate – she grew to be 6 feet tall. Baumfree claimed that she talked to God quite often, which inspired her to go out and spread His word throughout the countryside.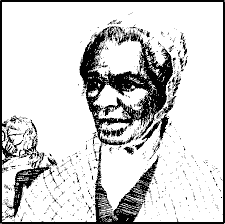 In the 1840s abolitionists convinced Baumfree to work with them to end slavery. She used her oratorical skills and God's "inner inspiration" to deliver the message that slavery should be ended. This inspired her to take the name "Sojourner Truth" because she said God told her to be a sojourner on the earth and to tell the truth. Both before and after the Emancipation Proclamation, Sojourner Truth remained a fervent black rights activist. She urged freedmen to educate themselves and pressed for rehabilitation of former slaves on Western U.S. soil. In her famous, "Ain't I A Woman?" speech, she took direct aim at white women suffragists opposed to Black women also getting the right to vote.This exposed the racial prejudice within the womens' suffrage movement. Ultimately, it served to advance Black suffrage and made Black women vested partners in the womens' movement as well.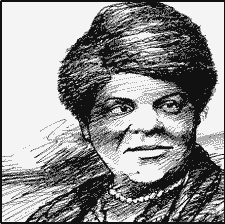 Ida B. Wells, who was a daughter of slaves, became a teacher. It was while teaching near Memphis, that she bought a half-interest in the Memphis Free Speech. She used the paper to denounce lynchings, and to urge blacks to boycott streetcars and to migrate west. The paper's office was destroyed by a mob in 1882. After refusing a seat in a Jim Crow car, Wells carried an unsuccessful suit to the Tennessee Supreme Court in 1887. Under the pen name of "Iola" she criticized the inadequacy of schools for blacks. The Memphis school board dismissed her from her job in 1891. In 1895, she married Ferdinand Lee Barnett, editor of the Chicago Conservator. A daughter, Alfreda, published her mother's autobiography with the title, Crusade for Justice. Wells-Barnett was secretary of the National Afro-American Council in 1898. On February 12, 1909, she signed "The Call to Discuss Means for Securing Political and Civil Equality for the Negro." As a result of that call, the Committee of Forty was formed (including Wells-Barnett). It led directly to the founding of the NAACP on May 12, 1910.
Sarah Breedlove, who is better known as Madame C J Walker, was one of America's first Black woman millionaire. She built her financial empire on Black hair care products. In 1910 she settled in Indianapolis and established her Madam C J Walker Laboratories to produce her line of products and train her sales beauticians. Later she moved to New York city where she quickly became involved in the social and political life of the Harlem Renaissance. She became an ardent anti-lynching advocate, becoming an active supporter of the NAACP's anti-lynching campaign.
Septima Poinsette Clark, of Charleston, S.C., was another pioneering woman civil rights advocate. She waged her battle long before the Voting Rights Act of 1964. In 1956 she was fired by the Charleston Board of Education when she refused to give up her membership in the NAACP. She came to Tennessee, joining the Highlander Folk School and along with Bernice Robinson, developed Citizenship Schools which taught Blacks how to read, write, fill out driver's license exams, voter registration forms, Sears mail order forms and how to sign checks. These schools were a response to legislation in Southern states which required literacy and interpreting various portions of the US Constitution in order to be allowed to register to vote. These laws were used to disenfranchise black citizens. Citizenship Schools also taught students to act collectively and protest against racism. One her students was Rosa Parks. A teacher herself, she was a lifelong advocate for education, for Black people registering to vote and exercising their rights as American citizens, as guaranteed under the Constitution. She believed in Black women taking leadership roles in the struggle for civil rights.
Linda Barnes, a English instructor at APSU, said she tries to be sensitive to her female students, encouraging them to strive to excel in their studies and be strong individuals in themselves and their communities. Womanhood in America is no easy thing and these young women need to be aware of what struggles and sacrifices have gone before them to allow them to stand as they do now. Such encouragement was shown to her and she strives to 'pay it forward,' as it were, in acknowledging that debt.
Cindy Pitts is a motivational speaker. She is also the wife of State Rep. Joe Pitts. She uses her own life as a wife, mother, and professional women in addressing the various audiences she is called upon to address. The world view that women possess is often more complex than many men would admit or suspect. Denying citizens their civil rights because of gender, ethnicity, education level, marital status, socio-economic status or political party affiliation are all wrong.
Rejection of efforts to limit citizens' supervision of their government was the foundation upon which this nation was built. How could we possibly propose to resort to such shameful human rights violations? Women are well aware of what hardships life can bestow. The power of committed women has shown the world the way out of many a despot's suffocating grip.
The women who fought for women suffrage were such courageous women. Arguments they espoused in their struggle still resonate in today's world. Women around the world envy the rights women enjoy in the United States. However, American women are not home free on the equality front. We all must remain committed to advancing human rights around our global community. The ballot is the key to that struggle. And, it belongs to every adult man and woman.
(Non-bylined photos by Turner McCullough Jr.)