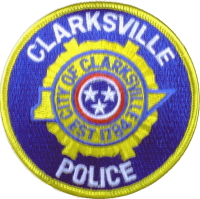 On December 9, a 23-year-old male was charged with Criminal Simulation and Resisting, Stop, Frisk, Halt, or Search .  Taken into custody  with a $6000 bond was Tony Reginald Stout, 23,  (B/M, DOB: 1/21/85), of 4008 King Circle, Nashville.
Officers responded to a call in reference to a counterfeit $100.00 bill being passed at a Riverside Drive business.  When officers arrived at the business, Tony Reginald Stout, came out of the business and exclaimed; "He didn't do nothing", and promptly took off running.  Officer Marvin Carnagey caught up to him within about a hundred yards of the business.  Stout had a $100.00 bill in his pocket with cut edges and a watermark consistent with a $5.00 bill.  The $100.00 bill Stout gave to the business to pay for food also had a $5.00 watermark.
Tony Reginald Stout was taken into custody and booked into the Montgomery County Jail. The arresting officer was Officer Tina Slaven.
Contact the Clarksville Police Department, 931-648-0656, if anyone tries to pass counterfeit bills.