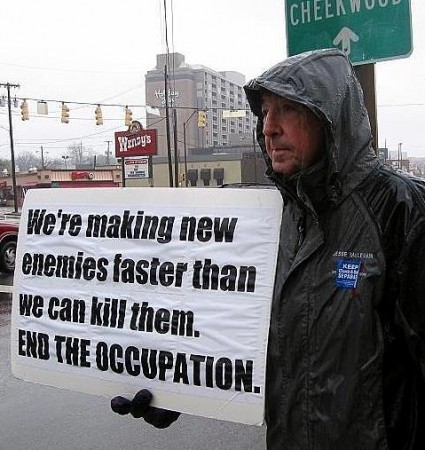 Despite heavy rains, the Nashville Peace Coalition held a planned Peace street  rally at Centennial Park in Nashville today, just days before the anniversary (March 19) of the Iraq War.
The Nashville Peace Coalition has called  for peace in Afghanistan and Iraq on the sixth anniversary of the occupation of Iraq; the street protest went on as planned but rain washed out plans for an accompanying concert and speaker program that was to have from noon to 4 p.m.
"Now is the Time for Peace" was intended as an appeal to President Obama and the Democratic House and Senate to withdraw all troops from Iraq including non-combat troops and reverse the recently announced troop surge in Afghanistan. 
In February, President Obama announced a troop surge of 17,000 troops to Afghanistan.  In response, the Peace Coalition organized legislative visits to Federal representatives in Nashville to urge them to press the current administration to withdraw combat troops from Afghanistan, citing no clear mission for the troops and the extreme costs of continued occupation during a time of economic crisis.
March 19th marks the actual anniversary of the beginning of the Iraqi War and although the Peace Coalition does acknowledge the announced withdrawal of 70,000 combat troops from Iraq under the current administration, they call for a complete withdrawal of all troops from Iraq including the 50,000 who will remain after the announced drawdown and a closing of all military bases in Iraq.
In addition the Peace Coalition calls for a withdrawal of all troops from Afghanistan. The Nashville Peace Coalition is a project of the Nashville Peace and Justice Center. participating in this event were the Firebrand Community Center, Veterans for Peace, Vanderbilt Students for Nonviolence, Americans United for Separation of Church and State, the Cumberland Greens, Eric Schecter for Congress, Tennessee Alliance for Progress, Peace Roots Alliance, Clarksville's Freethinkers for Peace and Civil Liberties, and the Nashville Greenlands.
Across the nation millions of people will be participating in peace rallies and demonstrations during the week of March 14th – 21st to mark the sixth anniversary of the occupation of Iraq.  On March 21st tens of thousands of peace activists will converge in Washington DC for a march on the Pentagon organized by national anti-war protest organizations including ANSWER and the Declaration of Peace.
In a release to the media on March 1st, ANSWER called for widespread demonstrations on the anniversary of the wars in Iraq and Afghanistan, saying that:
"The Iraq and Afghanistan war will drag on for years unless we act now. The cost in lives and resources is criminal regardless of whether the Democrats or Republicans are in charge of the government. The Pentagon has employed 200,000 foreign contractors (mercenaries) and 150,000 U.S. troops to maintain the occupation of Iraq. They have no right to be there. A few thousand are being brought out of Iraq only to be redeployed to occupy Afghanistan. The people of the United States want change. We are sick and tired of wars of aggression waged abroad under false slogans of "national security." The occupation of Iraq alone costs $12 billion each month. This amounts to $400 million each day, $16.7 million per hour and $278,000 per minute."
PHOTOS by Debbie Boen