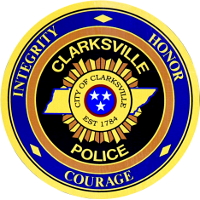 On October 10, 2009, around 3:47 a.m., Clarksville officers were helping with traffic control on the interstate, between exit 8 and 11 westbound, while THP was working a two car accident.  Officer Brad Holder had his Ford Crown Victoria patrol car parked, westbound in the left lane, behind a 2006 Chrysler 300 disabled during the crash.  He had his patrol car's emergency blue lights activated as well as his right arrow directional to inform motorists to move to the right.
A vehicle, a 2005 Lincoln LS, driven by Kenneth Davis, 20, of Ft Campbell, KY traveling westbound, collided with the rear end of the parked patrol car and pushed it into the rear of the Chrysler 300.  The patrol car and Chrysler were unoccupied at the time of the crash.
Davis and two other Ft Campbell soldiers, Michael Miller, 22, and Steven Boyd, 23, were transported to the hospital with non life threatening injuries.  Alcohol may have been a factor in the crash.
The investigation is ongoing and charges are pending.  The lead investigator is Officer Mike Caver, 931-648-0656, ext. 7060. or the TIPSLINE, 931-645-8477.