Loses at Jackson State, but wins at Tennessee Tech

Twenty wins and second place locked up as Lady Govs down Tennessee Tech
COOKEVILLE – Austin Peay State University's volleyball team recorded its 20th victory with a 3-1 (26-24, 21-25, 25-20, 27-25) Ohio Valley Conference victory against Tennessee Tech, Saturday afternoon, at Eblen Arena.
The win assured the Lady Govs a second-place finish in this season's OVC race, its best finish since winning the regular-season crown in 1992. Austin Peay also will record back-to-back 20-win seasons for only the fourth time in program history with its ninth 20-win campaign all-time.
"The fact that this team had the best OVC finish in 17 years is a testament to these women," said Lady Govs head coach Mike Johnson. I sincerely admire the commitment they make each and every day. I'm please to know we continue to improve and have our sights firmly set on winning the OVC tournament."
In the opening set, Austin Peay (20-8, 13-3 OVC) held its largest lead at 23-18 and got to set points leading, 24-20. But Tennessee Tech fended off four consecutive set points to tie the set, 24-24. The Lady Govs were able to stop the Golden Eagles' run with junior middle blocker Jessica Mollman's kill to get its fifth set point and senior outside hitter Stephanie Champine's kill put the set away.
Tennessee Tech (10-15, 9-7), playing its final regular-season home contest, shook off the late defeat and opened the second set with a 10-4 run. Austin Peay would close back to within four points, 19-15, to force a TTU timeout. The timeout was successful as the Golden Eagles regained its six-point lead, 23-17, and got to set point, 24-18. The Lady Govs staved off four consecutive set points but surrendered an error to end the set, 25-21.
The Lady Govs returned from the mid-match break and opened the third set with a 7-3 run. But Tennessee Tech rallied back with a 12-7 run to take a 15-14 lead. That lead lasted only breifly as the Lady Govs swiftly retook the lead courtesy a 7-3 scoring run and did not look back en route to a 25-20 win.
The fourth set was a wild affair with the Lady Govs sprinting out to a 20-9 lead with 13 points coming on their own kills. But a diehard Golden Eagle side was able to battle back with a 15-4 run to tie the set, 24-24, and force overtime again. Austin Peay did not trail in the extra points and won the match after junior middle blocker Taylor Skinner posted a kill and junior setter Sarah Alisaleh nailed a service ace to close the set.
"This match was all about serve and serve receive," said Johnson. "At the break, we challenged each other to see who would be the one to break the game open with her serve. Collectively we responded and Sarah's ace to end it was clutch – poigniant evidence of our service game in the last two sets."
Champine led all hitters with 20 kills and ran her streak of double-digit kill outings to 24 matches. Skinner added eight kills but had a dominant afternoon at the net recording seven blocks. Sophomore outside hitter Ilyanna Hernandez added 14 kills and Mollman chipped in 11 kills.
Austin Peay recorded 60 kills in the victory but committed 30 attack errors, its most since a 34-error performance at Marquette in September, and finished with a .171 attack percentage. The offensive woes led the Lady Govs to rely on a defensive effort that posted a season-best 11 blocks and won the back-row battle with an 85-75 margin in digs.
Leah Meffert led Tennessee Tech with 17 kills and a .292 attack percentage. The Golden Eagles finished with 50 kills but committed 23 errors and finished with a .166 attack percentage.
Austin Peay returns home for a regular-season ending two-match homestand, beginning with a 7 p.m., Friday contest against Tennessee Martin.
Volleyball: Unable to hold lead, Lady Govs fall in five at Jacksonville State
JACKSONVILLE, Ala. – Roaring out to a two-set lead, Austin Peay State University's volleyball team had league-leader Jacksonville State on the ropes, but could not hold on in a 3-2 (21-25 11-25, 28-26, 25-16, 15-13) Ohio Valley Conference loss, Friday night, at Pete Mathews Coliseum.
With the win, Jacksonville State earned at least a share of the OVC regular-season title and clinched the right to host the upcoming OVC Volleyball Tournament. Austin Peay remains in second place, two matches ahead of third-place Morehead State, which dropped a five-set match at Southeast Missouri, Friday night.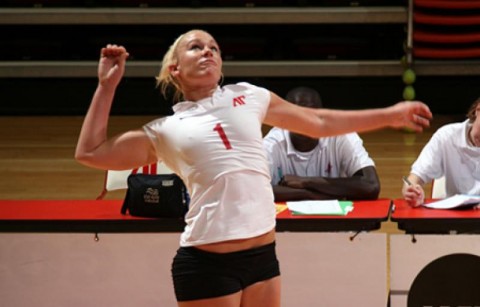 Austin Peay (19-8, 12-3 OVC) got off to a good start, winning the match's first two sets. The Lady Govs grabbed an early 5-1 lead in the first set only to watch Jacksonville State tie the set at 6-6 with a 5-1 run of its own. However, Austin Peay did not break and did not allow Jacksonville State to take the lead and regained the advantage at 8-7 and would not relinquish it en route to a 25-21 victory. The Lady Govs led the second set wire-to-wire as it held the Gamecocks to eight kills and five attack errors in the frame.
Following the break, the league's top two teams put together an impressive show for the Jacksonville crowd. The two teams battled through 16 ties and four lead changes in the set that went into overtime. Jacksonville State grabbed an early two-point lead twice, 7-5 and 9-7, but could not hold the lead. Austin Peay took its own three-point advantage, 17-14, courtesy a pair of blocks led by junior middle blocker Jessica Mollman. The lead reached four points, 21-17, as junior outside hitter Kayla Grantham served up an ace. But that lead would not stand as the Gamecocks used a 5-1 run to tie the set, 22-22. Austin Peay got to match point twice and was denied each time. Jacksonville got its first lead since 9-8 courtesy an APSU attack error and junior outside hitter Brittney Whitten ended the set with a kill.
Jacksonville State (22-5, 15-0) took the momentum it gained from that set win and capitalized with a fourth-set victory, tying the match. Austin Peay stayed close early on but a 10-2 JSU scoring run broke the set open. The Gamecocks grabbed control of the fifth set with three straight points to take a 5-2 lead and held on. Austin Peay closed within a point, 12-11, but could not pull even.
"Tonight was tought in that we had the match completely in our hand," said Lady Govs head coach Mike Johnson. "For just a moment we let our minds wander to 'what if' and we might have pressed just a little bit. On the bright side, we showed when we play our aggressive brand of volleyball we can be very good. We'll see this team again."
Senior outside hitter Stephanie Champine led Austin Peay with 18 kills, but had just six kills in the final three sets. Senior opposite hitter Kirstin Distler added 10 kills. Austin Peay recorded 55 kills and posted a .238 attack percentage.
Whitten led Jacksonville State with 17 kills as five of the team's six starters recorded 10 or more kills. The Gamecocks, who entered the night the OVC's top team in kills, posted 72 kills in the victory, including 47 in the final three sets.
Austin Peay closes its five-match road trip with a 2 p.m., Saturday, contest at Tenessee Tech.