APSU Women's Golf

Gulf Shores, AL – Austin Peay State University women's golf team, battled rain and subsequent storm delays, to post the second best score during the final round of the 2010 UAB Fall Beach Blast, played at the Peninsula Golf & Racquet Club.
Led by senior Chelsea Harris' 74, the Lady Govs fired a final-round 312 for a two-day 620, to finish in fourth place in the event. In fact, the Lady Govs, who were in fifth place three strokes behind Belmont after Monday's round, flew past the Bruins, who ended up in fifth place at 630.
Memphis won the event with a two-day 592 (292-300), with Louisiana-Monroe (613) and Marshall (617) in second and third, respectively.
"We were really playing well today until the rain delay," APSU coach Sara Robson. "I think we were about the only six (golfers) who wanted to go back out after the rain delay. We began the day with a delay and then we played 9 to 11 holes; then we stopped for almost two hours.
"Considering everything I think the girls handled the adversity pretty well."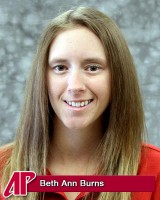 Harris' 150 moved her into a fifth-place finish. Freshman Rachel Deaton (78-77=155) finished in 13th while junior Ashley Averitt (79-77=156) tied for 14th. Senior Ashley Wathen, who tied her career low with a 75, Monday, was the most affected by the weather conditions; she shot a second-round 84 to finish at 159, tying her for 21st.
Meanwhile, Beth Ann Burns, playing her final tourney for APSU, shot a 173 (83-90) while fellow senior Catie Tucker came in at 164 (82-82).
The 620 served as the Lady Govs best score this fall, with Monday's 308 the second best round.
"We wanted to finish the fall season strong," Robson said. "With the conditions and everything, I really think we did. We played real well much of the day."