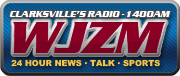 Clarksville, TN – Art Conn, the longtime host of Clarksville's Best Buys joins WJZM radio as co-host of the "The Bone Show", Clarksville's longest running morning show in 2011. Heard weekday mornings from 6:00am-9:00am on 1400 AM, and worldwide at www.wjzm.com, Conn becomes a part of the only morning talk show in the Clarksville/Fort Campbell market.
The Bone Show signed on the air in August of 1994, and is a part of Clarksville's oldest radio station, offering a variety of local news talk and sports programming.
"Clarksville depends on WJZM and www.wjzm.com for credible and accurate news and community involvement" said Bonecutter. "Our programming is what sets us apart from the flood of local media trying to report the news and keep the community informed". "Clarksville has always turned to WJZM to keep them accurately informed and entertained". "Art is a very popular local personality and is very involved in his community, his addition to my show was a no brainer". "We're excited that he accepted our offer".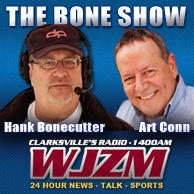 Bonecutter said that with the formation of his new company, Bonehead Promotions, "Art's talent and expertise will help us accomplish some of the things we've set out to do for our community".
Longtime co host Chuck Edwards moved on to a full time radio ministry on WJZM called "The Spirit of Clarksville" heard weekdays from 9:00am-11:00am and continues to be a part of WJZM.
Conn begins on air, Monday January 3rd. Bonecutter, a 35 year broadcast veteran and stand up comedian, went on to say "We're excited to have Art on our show, now I have someone to get my coffee in the morning".