Clarksville, TN – Mayor Kim McMillan was presented an American flag on Tuesday that flew over headquarters of the 101st Airborne Division at Bagram Airfield in Afghanistan.
Maj. Gen. Frank Wiercinski, administrative senior commander at Fort Campbell, personally delivered the flag and a plaque to the Mayor's Office on behalf of Maj. Gen. John Campbell, commanding general of the 101st, who is currently in Afghanistan.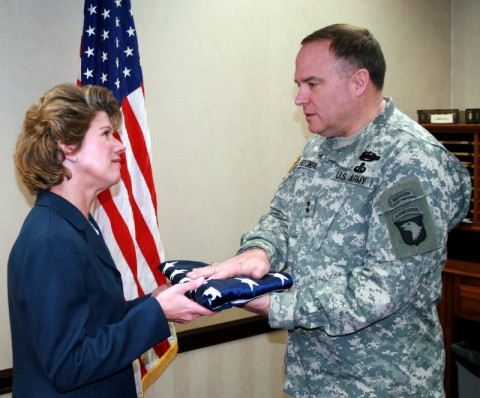 "Gen. Campbell wanted to show his appreciation to the city because it is part of this deployment of the 101st in Afghanistan," Wiercinski said. "We want to thank Clarksville for the strong support it has shown Fort Campbell and to let you know we are part of the city."
In an accompanying letter dated November 11th, 2010, Veterans Day, Campbell thanked the City of Clarksville "for your unwavering support to those of us serving in Afghanistan and around the world."
He also thanked the city for observing Veterans Day to honor those who previously fought and sacrificed for freedom, as well as those currently serving.
In closing, Campbell wrote: "Thank you again for your commitment to those who serve. I hope you enjoy the flag presented today and display it proudly, knowing it was flown over Afghanistan in your honor on September 11th, 2010."
Wiercinski said the commanding general sent three flags back to post – one each for Clarksville, Montgomery County and Oak Grove, KY. The plaque reflected most of Campbell's comments in his letter.
"It's a big deal," said McMillan after receiving the flag. "We want to have it framed along with the plaque so we can proudly display it in a prominent place."