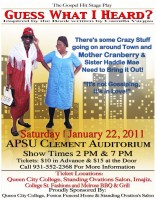 Clarksville, TN – The Gospel play "Guess What I Heard?" will be performed at the APSU in the Clement Auditorium on Saturday, January 22nd 2011 at 2:00pm and at 7:00pm. The play is based on the book written by Camilla Vargas. It  is produced, written, and directed by Treva R. Gordon; with writing assistance by Lavon Bravy. Associate directors include Alphonse & Benetta Prather, Lavon Bracey, and Jacqueline Lisenby.
Guess What I Heard is not your ordinary gospel music theatrical play. Comprised of 6 vignettes that touch on stalking in a relationship, baby momma drama, spousal cheating, spousal abuse, self esteem, & suicide. These stories are based in the real world, and are applicable to the lives of people in our community.
The show features visits by the comedic characters of Mother Cranberry, Sister Haddie Mae, and Daisy. Along with special guest appearances by local Attorney Kevin Kennedy, and Damon King.
Guess What I Heard  packs a powerful gospel message that demonstrates the power of God's love, grace, and forgiveness. Guess What I Heard will stir your heart, and uplift your soul.
Admission is just $10.00 per person in advance. DVD's of the show will be available for $20.00 contact 931-552-2368 for ordering.
The event is sponsored by  Standing Ovations, Fostons Funeral Home, Queen City College, Charter Channel 10, Daymar Institute, and Convenient Shopper Magazine; with assistance provided by Sandra's Thrift Store, Chris Bond Designs, Party 1 Superstore. Warm Memories, Melrose BBQ & Grill, Imajiz, College Street Fashions, I-Praise Media, Status J, APSU Fraternity, L.E.A.P. Org, The Young Daughters of Destiny, Sam's Club, Platinum Touch Salon, Joy's Diner, Clarksville Colonics, LOC Cafe, Family of Faith Worship Center, Yes Hair, Majik City Beauty & Barber, Clarksville Online, Maurice Hobbs, The Kennedy Law Firm, Number 7 Management, Brian Brock, Fred Holly, Claudia Payne, Riverside Church, Peaches 7 Management, Cathy Johnson & The Daughters of Hull, Christ the Healer Praise Dance Ministries, Churches Chicken, and The New Praise Radio.
Vendors Kwik Tax, Ciara Purses, Beauty Control, and Maurice Hobbs will have tables setup in the lobby.