APSU Women's Basketball

Clarksville, TN – Austin Peay women's basketball team will begin the final month of its regular season schedule when it hosts UT Martin in a 5:15pm, Thursday, Ohio Valley Conference contest at the Dunn Center.
The Lady Govs finally will have an opportunity to become familiar with their home court, playing five of their final seven regular-season contests at the Dunn Center. In the previous three months, Austin Peay has played 16 of its 23 games on the road.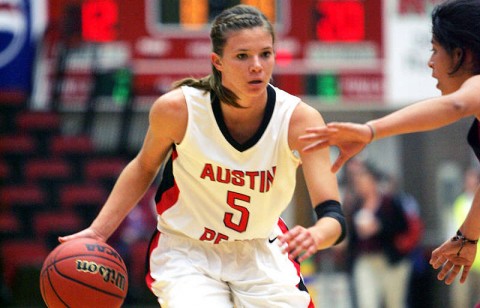 Austin Peay returns to the Dunn Center seeking to end a cold spell that has seen it lose three of its last four contests, including a 70-58 decision at Morehead State, Saturday. In that outing, APSU surrendered an 11-point first-half lead – the first time this season it has lost when leading by more than 10 points.
The Lady Govs cold second half was largely behind the loss, they made just seven field goals (24 FGA, 29 percent) in the half's first 19 minutes before making four field goals in the final minute.
Freshman Nicole Olszewski led the Lady Govs with 15 points, posting season highs in field goals made (7) and attempted (17). Senior Dalila Thomas chipped in 14 points off the bench, two days after a 13-point outing at Eastern Kentucky. Sophomore Meghan Bussabarger finished with a 12-point, 10-rebound double-double effort.
UT Martin remained in the thick of the OVC regular-season title race, defeating Murray State by an 86-64 margin, Saturday. After battling through a closely-fought first half, UTM dominated the second half with a 53-point outburst. It was the Skyhawks fourth consecutive victory and they finished January with a 6-1 mark, losing only at league-leading Tennessee Tech.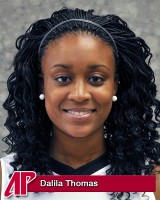 Five players, including four starters, scored more than 10 points in the victory. Jaclissa Haslip led the Skyhawks with 23 points, 12 rebounds and four steals. OVC leading scorer Heather Butler chipped in 16 points and seven assists.
The Skyhawks won the season's first meeting between the two teams – a 78-54 decision, January 6th, in Martin. UT Martin pulled away in the second half, posting a 45-28 edge in the period. Junior Whitney Hanley led the Lady Govs with 11 points but was just 4-of-16 from the field, including a 3-of-11 effort from three-point range.
Key Notables From Lady Govs at Morehead State
Nicole Olszewski led the Lady Govs with 15 points while tying her season high with six rebounds. Her three-point field goal with 45 seconds remaining was APSU's only three-pointer on the night.
Whitney Hanley was held to four points and two rebounds while suffering her second consecutive foul out. She is suffering through a spate of foul trouble with four or more fouls in five of her last six games.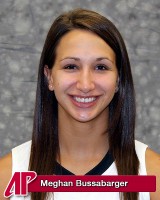 Meghan Bussabarger recorded her third double-double, finishing with 12 points and 10 rebounds. Each of her three double-doubles has come on consecutive Saturdays.
Saturday's loss at Morehead State was the Lady Govs first Saturday OVC loss in January. Austin Peay was 3-1 in Saturday OVC play during the month while posting an 0-3 mark in Thursday league outings.
Olszewski's three-pointer ran APSU's streak of scoring at least one three-pointer to 137 games dating back to the 2006-07 season.
What You Should Know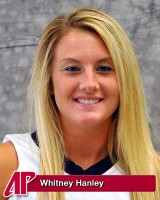 Austin Peay tied a season high with 11 steals at Morehead State, Whitney Hanley leading the team with three steals. It is the fourth time this season APSU has recorded 11 steals.
Morehead State's Chynna Bozeman became the first opposing player this season to score 30 points against Austin Peay.
Austin Peay lost the previous meeting with UT Martin, 78-54 on January 6th. The Lady Govs' 54 points remains the fewest scored in an OVC contest this season. Junior Whitney Hanley led APSU with 11 points.
Austin Peay begins a three-game homestand, Thursday. It is the Lady Govs second-longest homestand, one-game shy of a four-game stand in December.
Austin Peay will play five of its final seven regular-season games at the Dunn Center. The Lady Govs played 16 of their first 23 games on the road this season.
APSU enters the game tied for fifth in the OVC standings with a 6-5 mark. They fell four games behind league-leading Tennessee Tech.
APSU has recorded back-to-back 10-win seasons in OVC play and is now 27-20 in league action since the 2008-09 campaign.
Austin Peay is 37-47 in Ohio Valley Conference play all-time under head coach Carrie Daniels.
The Lady Govs are 21-22 in January under head coach Carrie Daniels.
Next Up: Murray State
Austin Peay and Murray State will meet for the 71st time since the 1976-77 season, Saturday. The Lady Govs leveled the all-time series at 35-35 with this season's 71-55 victory at Murray. Austin Peay has won the last four meetings in the series, beginning with its 90-84 victory in the 2009 OVC Tournament.
Next Carrie Daniels Show, Wednesday
The Carrie Daniels Show returns with a 6:00pm, Wednesday show live from Edwards Steakhouse on Franklin Street in Clarksville.
Hosted by Brian Rives for the third consecutive season, the show will air live on WVRY 105.1 FM and be simulcast over the internet at www.LetsGoPeay.com.