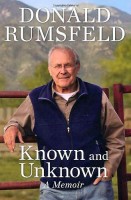 Washington, D.C. – On Friday, May 27th, former Secretary of Defense Donald Rumsfeld will be at the Fort Campbell Exchange to sign copies of his New York Times #1 bestselling memoir, Known and Unknown.  Mr. Rumsfeld has been visiting military bases nationwide to promote the sale of his book, from which his proceeds go to charities supporting those serving in the military and their families.
Mr. Rumsfeld will be signing his book "Known and Unknown" at the Fort Campbell Base Exchange May 27th, 2011 from 2:00pm – 4:00pm.
About Donald Rumsfeld
Donald Rumsfeld served twice as U.S. secretary of defense, first under President Ford and subsequently under President George W. Bush. He served as President Reagan's special presidential envoy on the Law of the Seas Treaty from 1982 to 1983 and as special presidential envoy to the Middle East from 1983 to 1984. Rumsfeld was the U.S. ambassador to NATO from 1973 to 1974 and later chaired the transition to the presidency of Gerald Ford, becoming his chief of staff.
Prior to this, Rumsfeld served as a U.S. congressman from Illinois from 1963 to 1969. During his fourth Congressional term, Rumsfeld resigned to join President Nixon's cabinet, where he served successively as the director of the office of economic opportunity, director of the economic stabilization program, and counselor to the president.
He has served as chief executive officer of two Fortune 500 companies and throughout his business career continued public service as chairman of the U.S. Ballistic Missile Threat Commission and chairman of the Commission to Assess United States National Security Space Management and Organization. He served in the U.S. Navy from 1954 to 1957. Rumsfeld earned his B.A. from Princeton University.