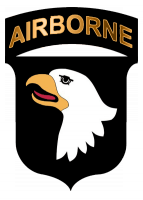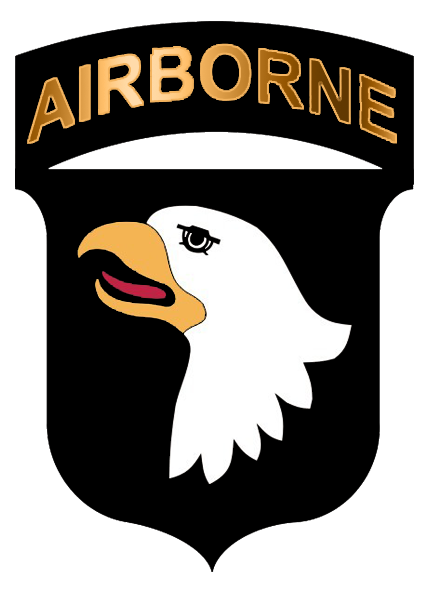 Fort Campbell, KY – Major General John F. Campbell and Command Sgt. Maj. Scott C. Schroeder, commander and command sergeant major of the 101st Airborne Division (Air Assault), will be welcomed home to Fort Campbell, KY. May 20th after commanding Combined Joint Task Force – 101 and Regional Command – East, in Afghanistan for the past year.
Major General Campbell and his headquarters element began their "rendezvous with destiny" in June, 2010 when they assumed responsibility and control of RC-East and CJTF-101. The deployment was notable because most of the 101st Airborne Division was deployed at the same time in Afghanistan and was considered to play a critical role in securing the future of the Afghan people.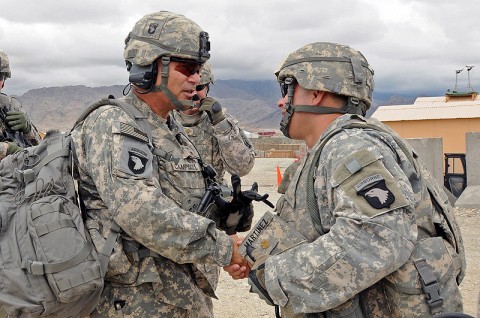 "This coming year is vital to the future of Afghanistan.  Building upon past accomplishments, we will further Combined Action and Unified Action to help facilitate enduring Afghan solutions to Afghanistan's challenges by, with and through our Afghan partners.  For our success is measured by our partners' success…and their success isn't measured by the number of projects or missions we conduct, but by the faith and confidence the Afghan people entrust in them," said Maj. Gen. Campbell a week after arriving in Afghanistan.
The mission of RC-East in Afghanistan was to conduct combined action counterinsurgency operations to protect the population, increase the competency, capacity, and credibility of Afghan institutions and defeat insurgent forces in partnership with the Government of the Islamic Republic of Afghanistan (GIRoA) and in close coordination with joint, interagency and multinational partners.
Over the course of the past year, Combined Joint Task Force-101 and its Afghan partners had many successes due to the surge of coalition and Afghan security forces and civilian counterparts.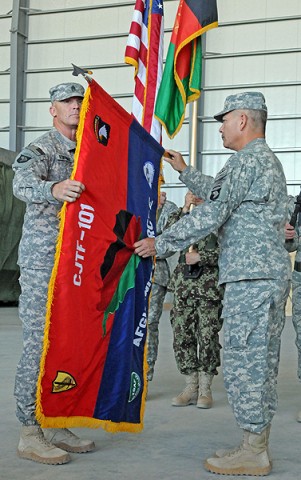 The combined ANSF and coalition partnered operations impacted insurgent networks by removing more than 4,000 insurgents from the battlefield and reducing enemy munitions caches. Double the amount of weapons caches were cleared as compared to last year, including more than 38,000 pounds of recovered explosives and 6,700 munitions such as rockets, mortars and mines.  These cumulative efforts degraded insurgent ability to impact security gains, and increased security paves the way for gains in governance and development.
As security improved, so did governance and development. In June 2010, sporadic prosecutions occurred in RC-East's provinces. Today, trials are routine in seven of the 14 provinces. Previously there were no reports of public trials in Khowst, Wardak and Kunar; now more than 48 trials have occurred in those three provinces.  Two provincial justice centers were established – one in Jalalabad and the other in Khowst. Opportunities for economic opportunity have increased as well. For example, Afghans established 25 new companies in the Nangarhar-Konar-Laghman area due to improvements in farm-to-market productivity for poultry.
More than 5,000 Afghans have been employed in 60 "Cash for Work" programs.
Progress in Afghanistan is incremental, but this past year left Maj. Gen. John F. Campbell, commander of Regional Command – East and Combined Joint Task Force-101, optimistic for what Afghanistan will become.
"It has been my privilege and honor to serve with these great men and women of CJTF-101; a time that I will forever cherish. Thanks for allowing me to pass on some of the news from CJTF-101 the past year…hopefully it has given you a better appreciation for Afghanistan and the very tough fight that we have faced; the challenges and sacrifices we have shared; and the positive impact that we have had on the Afghan people and their security forces," said Maj. Gen. Campbell.