Written by Master Sgt. Michael Voss
455th Air Expeditionary Wing Public Affairs
Bagram Airfield, Afghanistan – Airmen deployed to the passenger terminal here can generally tell from day one they are in for a busy rotation. Often, they simply can't believe, and are overwhelmed by, the number of passengers passing through the terminal doors.
In April, the 455th Expeditionary Aerial Port Squadron broke their own record for the most passengers moved in one month, transporting 59,327 individuals through the terminal. This exceeded their January record by more than 9,000 people, and the staff attributes the increase to the ongoing changeover between the 101st Airborne Division and the 1st Cavalry Division.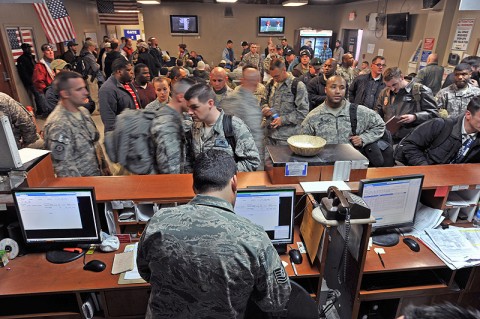 Each day, the 455th EAPS secures transportation for nearly all the equipment and U.S. servicemembers supporting the mission in Afghanistan. The air transportation specialists handling the steady flow of warfighters are more interested in mission accomplishment than breaking records.
"We don't really think about numbers or what's going on. We just focus on getting the missions complete," said Senior Airmen Keshia Wright, 455th EAPS customer service representative. "You know it is busy, but it just makes the day go by faster. At the end of the shift, sometimes the supervisor will tell us we moved this many today and we're like wow," explained the Huntington Beach, CA, native.
Working 24-hours a day, seven days a week, about 50 work to keep Air Combat Command's 2010 Verne Orr award winning terminal functioning with precision that closely mirrors the moving parts of an expensive timepiece.
All day, Air Force air transportation specialists eye computer screens tracking passengers' flights or drive forklifts loaded with pallets of luggage back and forth from the cargo yard to aircraft headed to the next destination. If a single flight is cancelled or delayed, the entire passenger processing system backs up, effecting other flights from around the world.
Many Airmen deploying to the 455th EAPS know they are filling big shoes even before arriving. The squadron surpassed many of Operation Enduring Freedom's aerial records on the way to claiming the title as the busiest aerial port in the Department of Defense. In the fourth quarter of 2010 alone, the approximately 150 members of the squadron moved 1,481 passengers, 688 short tons of cargo, on average each day amassing a total of 136,251 passengers and 63,299 short tons of cargo over the three month period. In comparison, other major aerial ports such as Ramstein Air Base, Germany; Travis Air Force Base, CA; Dover Air Force Base, Del.; Charleston Air Force Base, SC; and the 379th Air Expeditionary Wing in Southwest Asia moved a combined 134,625 passengers during the same timeframe.
"I have never seen any place as busy as this as far as passengers go. I heard the rumor about this terminal before getting here. I got this deployment a year ago and I studied up on it. But it is something you need to see to understand," said Tech. Sgt. Jason Olson, 455th EAPS Passenger Service Counter supervisor and Milwaukee native. "I have never been anywhere where it is this busy. I'll have to multi-task flights in order to keep up."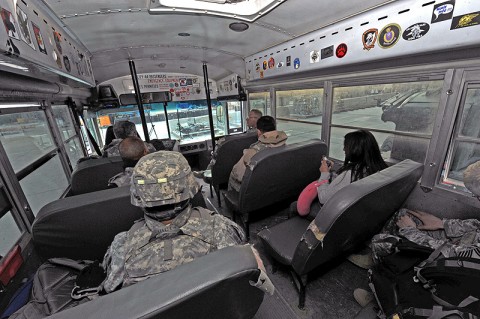 In fact, 70 percent of all people and material going in and out of the country go through the passenger terminal at Bagram. Every 15 to 30 minutes, there is at least one aircraft coming in or out of Bagram and 75 percent of those require aerial porter support.
"You would have to multiply the workload at my first deployment by five to get close to here," Sergeant Olson explained. "I doubt I will ever see another military terminal like this again."
Doing more with less personnel than other ports is what the 455th EAPS prides itself on rotation after rotation. By day two of turnover, newly assigned Airmen take the reins and begin working one flight after another from small contracted flights to the big commercial flights going back forth to the states each with more than 100 people on board.
Of course breaking DoD records has started comparisons to commercial airports like Chicago's O'Hare or Los Angeles International, and if weather had not been an obstacle their numbers may have been on par for those comparisons.
"Honestly I started to think about all the flights that were cancelled due to weather in April, and how many it could have been in a perfect world," Sergeant Olson said. "We just keep getting better and better. We could easily double this number of passengers depending on the flights coming in and out of the country."
In addition, knowing everything changes from day to day and sometimes hour to hour, 455th EAPS Airmen know they are at a disadvantage because of the environment they work in everyday.
"We don't have the ability to hand the passenger a ticket and say be back at this time, because military flights shift, but the new terminal (when completed later this year) will have the technology to remedy this," said Sergeant Villagut. "Here there is no place for the passengers to walk around, smoke or eat because the rest of Bagram is an operational base moving at the same speed as the terminal."
Even though the workload seems endless, and sometimes passengers are not excited to be waiting for a flight, the passenger terminal Airmen consider the efforts worthwhile.
"We try to help our passengers as best we can because they are not simply numbers, and most are going to places that are far worse off than Bagram," said Sergeant Villagut. "Supporting passengers is what we do to help support the fight."