Fort Campbell, KY – Early Saturday afternoon several country music stars made their way to the division parade field to honor the soldiers of the 101st Airborne Division.
Prior to the show, Charles English with the band Rocket City said there is alot of great talent here today and they are motivated by the soldiers.
???????Darryl Worley, Randy Owen, Teddy Gentry, Mark Willis and Buddy Jewell  along with some new comers all ready to perform for the the soldiers and their families during this holiday weekend.
SSG Avatt kicked of the event singing the National Anthem followed by the announcement of the many sponsors to of the event which include the Fort Campbell Federal Credit Union, Budweiser, USAA,  Nissan dealerships, Veterans of Foreign Wars, Daymar and several other sponsors made this free event possible.
The crowd started arriving early to get along the front row for the show. The heat didn't keep ?SPC Donald Daniels who recently returned from Afghanistan in May along with his wife Kimberly and friends SPC Joseph Morgan and his wife Melinda and their son away.
Buddy Jewell was the first performer to take the stage in the first of three concerts to Welcome Home soldiers around 5:00pm. Later Teddy Gentry, one of the co-founders of Alabama took the stage with Rocket City and other performers from Best New Nashville.  These performers included Jimmy Stewart, Amber Shelene, Garrett Steele, 3 Lanes Crossing.
Randy Owen, lead singer with Alabama took the stage and gave a big Thank You to? US Congresswoman Marsha Blackburn for all she does. During the show one of Fort Campbell's very own soldiers Marcus Mullins took the stage playing guitar with the band and also performed the Orange Blossem Special along with his sister Megan who plays the fiddle for the band.
Darryl Worley closed out the show performing many of his hit songs including Have You Forgotten. Several soldier took the stage during this song and once Darryl finnished singing, he walked down the line and shook hands with each one of them.
Before Darryl left the stage, Major General John F. Campbell and Command Sergeant Major Scott C. Schroeder took the stage to present him a couple gifts. One was a Brass Eagle, a knife and a 101st Airborne Division ball cap.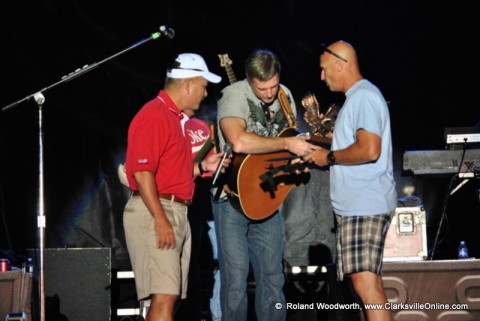 The second Welcome Home Concert along with the 4th of July festivities take place tonight as the USAA Freedom Fest Concert take place at the  Division Parade Field starting at 7:00pm. Activities will include the  101st Airborne (Air Assault) Parachute Demonstration Team, Color Guard / National Anthem, Salute to the Union / 50 Gun Salute and a concert featuring Laura Bell Bundy and Jacob Lyda followed by Fireworks.
The last of three concerts will be held on July 10th when the Air Force Reserve presents tour for the troops with Blake Shelton starting at 8:00pm at the Division Parade Field. The concert is open to military ID Card holders and their families and guest.
Photo Gallery