APSU Sports: Men's Football

Clarksville, TN – Inconsistency was the key word from both sides of the football after Austin Peay State University's first scrimmage, Monday morning, at Governors Stadium.
The offense tallied six plays of 25 or more yards while the defense produced 16 plays that resulted in negative yards in a scrimmage that saw 85 plays run. The offense finished with 13 first downs and three scores while the defense failed to produce a turnover, although defensive personnel did block an early field-goal attempt.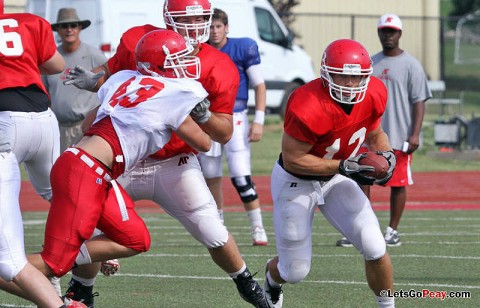 "Overall I was pleased with the scrimmage, but I thought we showed we are not in the shape we need to be in," APSU coach Rick Christophel said. "We got a little tired and lost our aggressiveness about midway, three quarter of the way through. That's what scares me, that's when injuries occur.
"We have been going at it, been on that turf every day for eight days since we started and you start losing your legs. It was a good day to scrimmage as far as the temperature and humidity, but the aggressiveness at the end just was not where it needed to be."
In fact, Christophel had planned on going as many as 100 plays, but ended it sooner after he witnessed the play level slipping.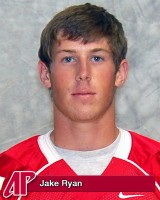 Junior starting quarterback Jake Ryan, who struggled early, actually ended up playing more snaps than the head coach originally had intended. He finished the scrimmage 11 of 20 passes for 193 yards, including a 65-yard strike to freshman Jamaar Embry.
"For the most part I thought Jake threw the ball with accuracy," Christophel said. "He did play a little more than I had planned but I wanted to see him get adjusted, get his timing down out there. He had the one ball that Jeremy Ross should have picked, but once he got settled, I thought he threw the ball pretty well."
Starting  junior receiver Devon Stark had an impressive scrimmage, using his size and speed to haul in three passes for 64 yards, including catches of 33 and 22 yards.
Sophomore Terrence Oliver also hauled in a pair of long passes of 32 and 44 yards while junior walk-on Lavendor Jeffreys had a 25-yard catch.  
Still, it was a running play on the scrimmage's third play that left a sour taste in Christophel's mouth. With the second-team offense going against the first-team defense, junior running back Wes Kitts broke free for 53 yards to the five-yard line.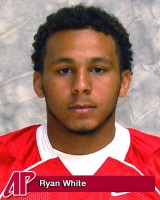 "One of the things that concerns me is we have to be able to stop the run," he said. "There is going to be big plays in the passing game when we don't have a pass rush, but we can't allow them 20-or-more yard runs. That is not good.
"Don't get me wrong, I like what Wesley did, but at the same time that was our first defense out there-that was not good."  
Preseason All-OVC running back Ryan White carried the ball just three times, but included an impressive seven-yard scoring run.
The Govs are scheduled for their second scrimmage 9:30am, Saturday before holding their annual media day at 1:30pm.
Scrimmage Statistics   
Rushing
Ryan White 3-11 (1 TD), Wes Kitts 7-67,  Ean Pemberton 20-23, Dontavious Brown 14-33, Cody Tucker 4-14, Landon Curtis 2-0, Jake Ryan 2-14, Jacob Sexton 1-4, Terrence Oliver 1-(-3);
Passing
Jake Ryan 11-20-193 (1 TD); Landon Curtis 3-5-11 ; Jacob Sexton 1-1 44
Receiving
Terrence Oliver 3-77, Devon Stark 3-64, Terrence Oliver 3-37, Roberto Lemon 2-19, Jamaar Embry 1-65 (1 TD), Lavendor Jeffreys 1-25, Ryan White 1-10, Hunter Branch 1-9, Tee Howell 1-7, Scott Thomas 1-4, Andrew Montgomery 1-2, Dontavious Brown 1-(-2).